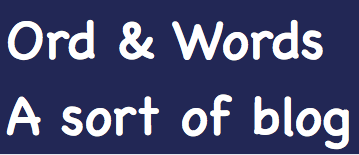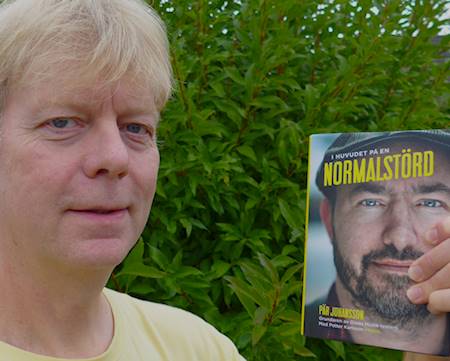 "I huvudet på en normalstörd" av Pär Johansson med Petter Karlsson. Utgiven 2012.
"Är du aldrig nervös?" kan jag fråga vår skådespelare Sune.
"Nej, jag har aldrig varit nervös."
"Aldrig någonsin?"
"Nej."
"Är du aldrig rädd att göra bort dig?"
"Men hallå, man kan väl inte göra bort sig när man är sig själv?"
Pär Johansson är grundaren och ledaren av Glada Hudik-teatern.
Jag har lyssnat på föreläsning med Pär åtminstone två gånger. Första gången var för många år sedan. Den senaste gången var nu i sommar, då jag som deltagare också fick boken och två filmer med teatern. Boken och föreläsningen i somras har många likheter, mycket går igen.
Det är en skön bok. Mycket utgår från berättelser tillsammans med utvecklingsstörda och särskilt inom Glada Hudik-teatern, och en del ur hans personliga liv. Både anekdoter och som berättelser till sina livstankar och livsfilosofier. Jag kan bli lite avundsjuk att skriva en bok med sina tankar om livet!
Ovanstående har du ett av mina favoritcitat.
Det finns rätt många ställen att citera. Ett annat är från prologen, i samband med en tuff familjehändelse:
"Och då inser hag att jag haft fel hela tiden. Allt är faktiskt inte möjligt. ... Plötsligt är jag en handfallen åskådare, den här scenen är det inte jag som regisserar."
På föreläsningen i somras talade han om att han inte trodde så mycket på att ha mål, utan snarare en riktning. Dessa tankar finns också i boken, i kapitlet "Du skall spela på gehör". Han skriver:
"En av vår tids främsta myter är den om vikten av att sätta upp tydliga mål. Vi möter den inte minst inom näringslivet. Var och varannan managementbok talar idag om 'målbilder'. Först då kan vi lyckas i livet. ... Utan istället att öva upp sin förmåga att se en möjlighet i ögonblicket. ... Att drömma är förstås en sak. ... Snarare är det ju så att högt ställda förväntningar ibland har en förmåga att förlama oss. Prestationsångesten slår lätt till."
Att planera och tänka framåt kan jag känna behov av. Att ha kontroll. Men jag håller också med om vad Pär skriver. Detaljerna i mitt liv och min arbetsbana har jag inte planerat. En del kanske hade blivit bättre om jag planerat och agerat. Annat hade blivit sämre. Förutom det som han skriver om att fånga möjligheten, så tänker jag också tillbaka till prologen att allt är inte möjligt. Att vi inte har kontroll över allt, varken i vårt egna liv eller om vi lever i någon form av relation till andra människor. Då kan planering och målbilder gå totalt om stöpet.
I mitt tycke en helt klart läsvärd bok!
Henrik Hemrin
30 augusti 2018
Uppgifter

Kategori: Ord & Words
Write comment (0 Comments)
Tip for administrators of Joomla powered web sites.
Yesterday I was about to use the "Mass mail to users" function from Backend admin. But the mail could not be sent, I was notified. I have been able before.
After some reading and thinking, my best guess is as follows:
In Global settings > Server > e-mail preferences, I have used a e-mail address not related to this @mydomain.com. I changed the settings to an e-mail belonging to this @mydomain.com.
And now, it worked perfect to send the mass mail again!
I believe my web hotel has changed its rules, so it now must be a valid e-mail account related to this @mydomain.com.
So: use an e-mail account from same domain as your website.
Uppgifter

Kategori: Ord & Words
Write comment (0 Comments)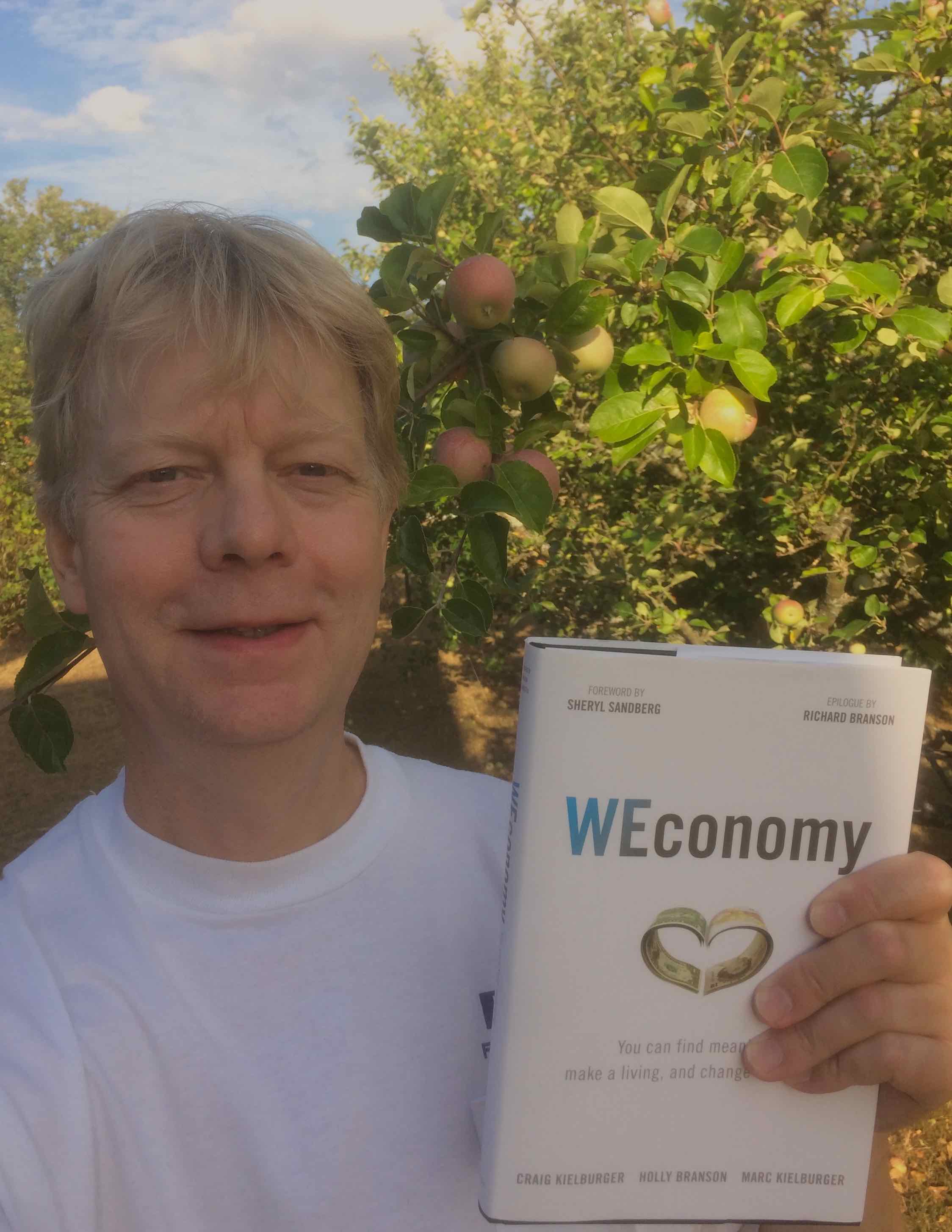 WEconomy. You can find meaning, make a living, and change the world. Authors: Craig Kielburger, Holly Branson and Marc Kielburger. Published 2018.
In the foreword, by Sheryl Sandberg, she asks two questions: "What kind of world do you want to live in? How will you contribute to the lives of others?" I also note her "the luck of birth determines som much of our lives and that those of us with opportunity also have responsibility".
The book consists of three parts: What; an introduction to WEconomy. Why; why business should work for a better good. The third part is How; a guide to embed purpose in business or as an individual, a guide based on the authors experiences.
In the introduction to part one of the book states that the society is divided today and have a focus on the individual and "me first". But the authors are hopeful "We're firm believers that the 'building walls' senitiment is a blip fostered by fear and misunderstanding, and that humankind is generally on a march toward a more open, interconnected world."
Further on in the introduction of part one: "This combination of purpose and profit is the bedrock of the WEconomy, and it is achievable for everyone, regardless of your sector or the stage of your career. You don't have to be a business owner to reap benefits in the WEconomy."
The authors acknowledge that customers and employees who seeks purpose and not only the product or job, have a focus on middle class and upward. Those who can afford to choose more expensive products and possibility to choose job. The authors believe many do not only want to buy products, they want to buy products which are good in ethics including environment. And furthermore that people want to work at companies that are doing good.
One profit and purpose model they sketch is from the WE group (not sure what I should call it), is the combination of a profitable company (which of course also is doing good in its own behaviour), and that the company also has an arm to where some of the profits go. This arm has a more full focus to do good.
When the authors are looking for purpose and projects, they focus on activity/charity/product etc that make a big change for the purpose, something that make a big change. Looking for ideas and products that can be scaled. They are less interested in good in the small steps, charity that are doing good things but not are leading to the big changes - without saying those traditional charities are bad.
Business can be an essential contributor to do the big shifts towards a better world, good to scale. "Social issues of great magnitude can only be solved when government, nonprofits, and the private sector work together." (p 25). And, the business can still be profitable, or rather profitable because they are doing good.
To have a social purpose can be the reason why choose this company to buy from for the customer, whether the customer is another company or an individual who needs a new Teeshirt. On the other hand, as example, I reflect that (in Sweden) it has become very popular to buy products directly from China, to so low price without considering ethics. So I cannot see it is only one direction that everyone buys with ethics/social purpose in mind, not even for middle class.
So many charity organizations exist in the world. "good intentions do not always result in good work", they write. So instead of starting a new charity, if there is any charity that fiths the purpose, try instead to support or cooperate with existing ones (as company or individual).
Another note I have taken, is that WEconomy talks about KPI or other efficiency measurements of the charity/non-profit, which is not always done in traditional nonprofit. Also for charity/nonprofit, they believe it is important to know how much good the efforts do.
When I wrote my thesis "Global Compact as Protector of Human Rights in Business. An Analyse of Ethical Codes with Ericsson as Case Study." several years ago, I read many interesting books in this area. If I had been writing my thesis now, I would have included this WEconomy book in my work.
I like the phrase "Seven Generations Plan" (p 307), meaning a long-term focus plan for the investments; how do I want the world to be in 100 years from now. When I read this, I come to think of one of the books in my thesis, "Transparency! Det osynliga företaget" by Lars-Olle Larsson. Larsson means that corporate management should maximize profit now – but he wants to change the understanding of now to at least one generation or maybe two, 25 or 50 years, – a prolonged now. And he also means that shareholders should keep their shares for a similar period.
One more quote: Page 114:
"Want to reinvent your job with purpose?
Build these traits
A learning mindset: Learn as much as possible as quickly as possible, and see everthing you do as an opportunity to learn. Remove the stigma from mistakes and errors; they are learning of opportunities.
Trust yourself: ..."
Oh' well, above are just about a few of the undelines I have in my copy of WEconomy. It doesn't give a full picture of the content at all. But maybe you find some of my notes interesting. And maybe you will read the book yourself!
Henrik Hemrin
#WEconomy #business #businessethics #CSR #CraigKielburger #HollyBranson #MarcKielburger
Uppgifter

Kategori: Ord & Words
Write comment (0 Comments)
Med anledning av att gården Örestrand byter ägare till Höganäs kommun om ett par veckor så nertecknar jag dessa minnen. Örestrand ägs nu av Equmeniakyrkans fastighetsbolag, och tidigare av Södra Götalands distrikt (och andra varianter) av Svenska Missionskyrkan / Svenska Missionsförbundet (och dess ungdomsförbund).
Det är framför allt sommaren sommaren 1977 som jag var på Örestrand. Sommaren 1977 gick jag ett tre veckors konfirmationsläger på Örestrand.
Jag minns det som en ganska kall sommar. Trots att Örestrand ligger precis vid stranden badade jag inte någon gång. Och så var det för de flesta. Kylan bidrog till badfritt konfaläger, men också det skitiga vattnet gjorde bad oattraktivt. Som jag minns var det varierade skitigheten med hur vindarna låg. Jag har något minne av att någon, kanske ledare, noterade att badkläderna var skitiga efter badet. En dag var det i alla fall ett antal, kanske tiotal, som vuxendöpte sig i havet. Vi andra stod på stranden och frös.
Vi bodde i de barackliknande byggnaderna som låg utmed kanten på vad som borde vara den södra sidan (sidan mot Höganäs centrum). Jag tror de byggnaderna är rivna. Jag och en stor del av killarna bodde i den översta baracken. Det var inte så hög standard och det var lite småfuktigt. Jag minns någon silverfisk. Men det var ändå rätt trevligt, och jag delade rum med Fredrik C. som jag kände sedan gammalt hemma i Växjö. Fuktigt ja, toaletterna fanns i en av de andra byggnaderna i längan. Det var cementgolv och jag tror inte det var någon värme på där, så det var lite fruset att besöka toaletten den sommaren! Det kalla och fuktiga minnet inkluderar också att flera konfirmander var småsjuka och huvudledaren Arnold Ekros gick runt med termometer på fickan.
Annars var det ju förstås konfaläger med många lektioner i fokus! De flesta inomhus, men vi satt ute också ibland. Så det var inte bara dåligt väder! Jag minns också andra samlingar av olika slag. Lägerkör hade vi, och den stora slagdängan för lägret var "Soon and very soon". Då dånade det när kören sjöng ! Och alla måltider i huvudbyggnaden minns jag. Ledig tid fanns också, och bland annat gick vi ner till Höganäs centrum några gånger eller gick utmed stranden och utforskade militära anläggningar. Det var många skåningar på lägret, så det blev allt lite skånska inslag i mitt tal efter tre veckor!
Konfirmationshögtiden var i Helsingborgs missionskyrka. På den tiden fanns ingen kyrkobyggnad på Örestrand. Festmiddag tillsammans med släktingar efter konfirmationen inmundigades på Örestrand.
Konfalägret var mitt första och största sammanträffande med Örestrand. Det var glada minnen och många jag lärde känna på lägret. Därför var det roligt att återvända till Örestrand ett flertal gånger under åren. Främst var jag på Örestrand på midsommarafton, tillsammans med mina föräldrar. Det var massor av folk som firade midsommar på Örestrand! Det var många som ville vara på Örestrand under midsommaraftnarna! Vi bilade ner under eftermiddagen och hemfärden avslutades i midsommardagens morgonljus.
Henrik Hemrin
Uppgifter

Kategori: Ord & Words
Write comment (0 Comments)
Traditionellt loggar man in på en webbsida med ett användarnamn och lösenord, och eventuellt ett steg ytterligare (tvåfaktorautentisering). Numera har det blivit fler och fler större svenska hemsidor som gått över till Bank-ID istället för lösenord. Eller gått över - det är just det.
Jag har noterat att flera hemsidor som numera har Bank-ID även har kvar lösenord. Det kan ju vara okej. Det jag dock tycker är konstigt är att man inte kan avaktivera lösenord. För om man väl bestämt sig för att använda Bank-ID, varför ska jag då kunna använda lösenord?
Ur säkerhetssynpunkt skulle jag vilja kunna inaktivera lösenord. Jag har frågat tre relativt stora företag/organisationer om jag kan inaktivera möjligheten till lösenord, men samtliga dessa tre har sagt nej. En sa att man inte kommer åt alla funktioner med lösenord.
Jag måste alltså fortsätta att se till att ha ett säkert lösenord, trots att jag använder Bank-ID på dessa hemsidor.
#internetsäkerhet #lösenord
Uppgifter

Kategori: Ord & Words
Write comment (0 Comments)
Our life is more than ourselves. We live in relationships to other persons.
In Physics Today, May 2018 issue, Lloyd Knox writes a review of the new book "Losing the Nobel Prize. A Story of Cosmology, Ambition, and the Perils of Science's Highest Honor", by Brian Keating.
Quoting the book review in Physics Today:
"For example, Keating writes about having to leave Antarctica to help his ailing, estranged father: 'The irony of it all was painful. For years I'd dedicated my life to trying to reveal the cosmos's origin story, even though my own version was mostly a mystery. Then, suddenly, just when the telescope I'd 'sired' had reached adolescence, I was forced to abandon it, just to comfort a man who'd left me as a child. In my gut, I knew there'd be many telescopes to come, but I only had one father, flaws and all.'"
We do not live isolated from other. We cannot always do what we plan. Even if we are a big scientist with a dream project. Life changes our plans. Sometimes plans have to be changed, or paused. That is part of being a human being.
(This article has also been published on LinkedIn)
Uppgifter

Kategori: Ord & Words
Write comment (0 Comments)
Internet Privacy:
I have added DuckDuckGo Privacy extension to my browser. DuckDuckGo is not only a privacy search engine (not collecting data like eg Google does).
Here is an example how the the Privacy works.
Snapshot one where advertisements and a lot of other invisible trackers are stopped.
The second snapshot is when I have added the site to the White List (for example when I trust the site and want to support them to have ad income).
#Privacy #DuckDuckGo #Trackers #InternetPrivacy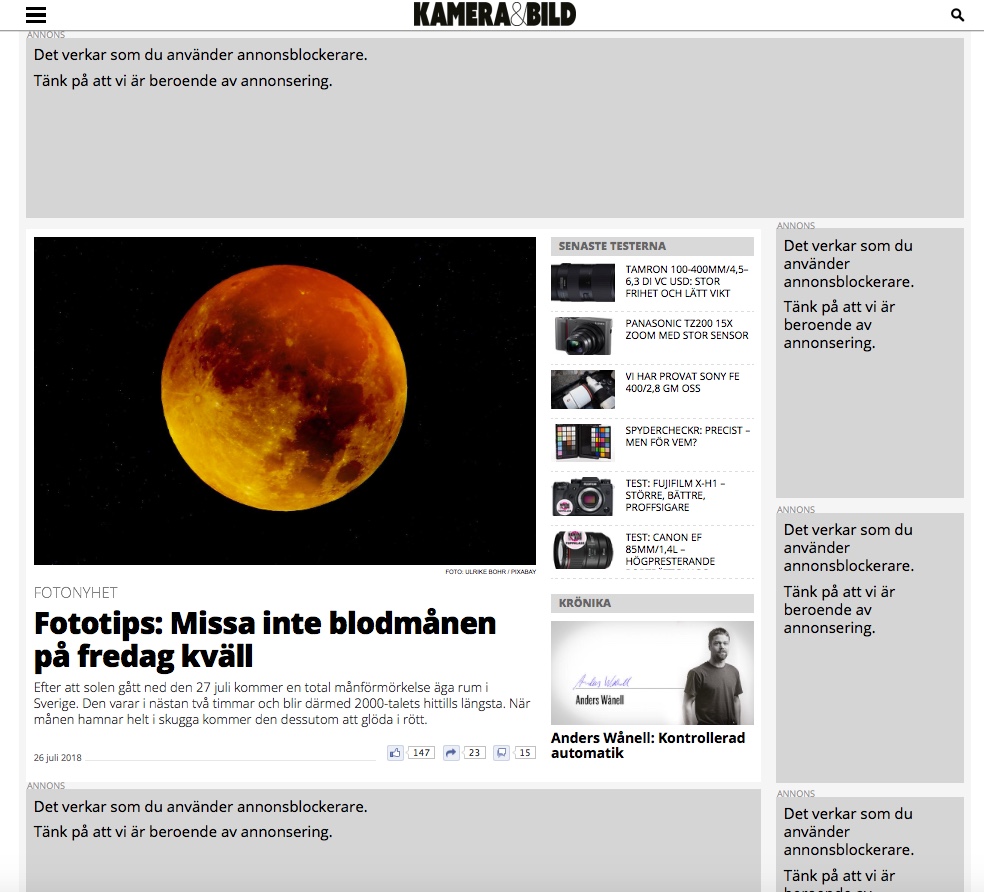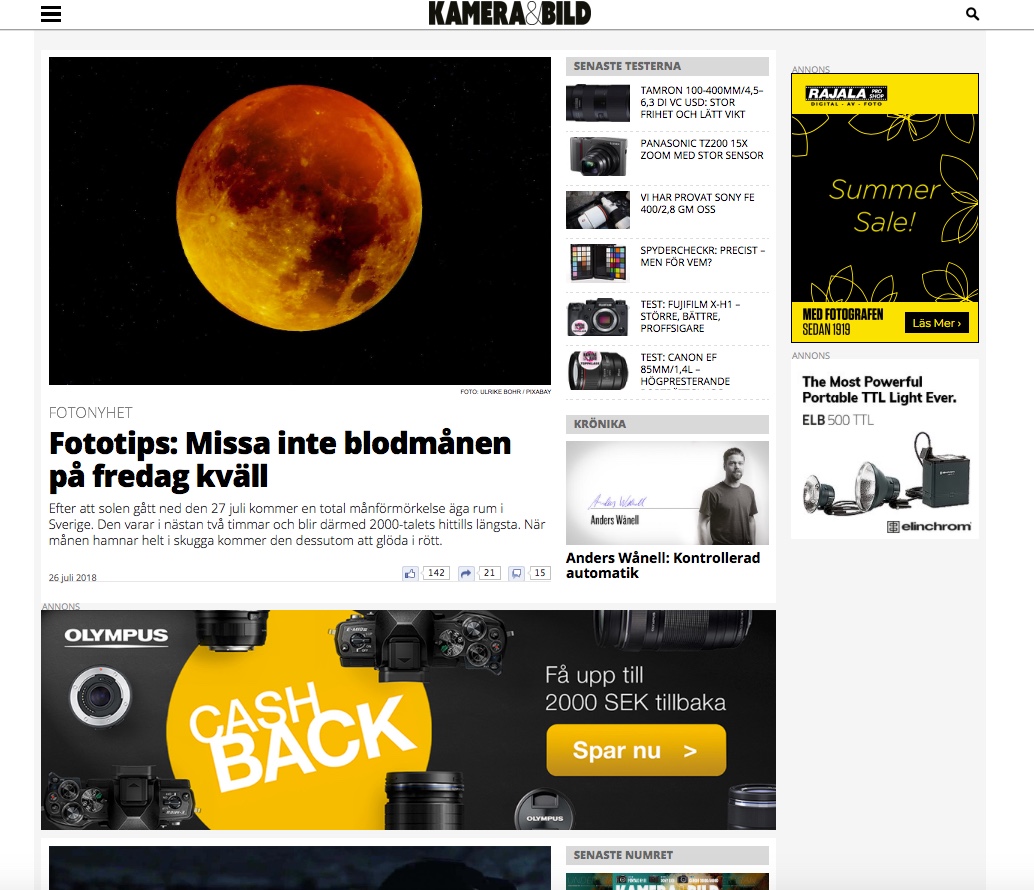 (This article has also been published on LinkedIn.)
Uppgifter

Kategori: Ord & Words
Write comment (0 Comments)
USA har fått berättigad kritik för att de dragit sig ur Parisavtalet. Samtidigt har Kina ibland setts som goda när de klargjort att de stannar kvar. Men, det är olämpligt att därmed se Kina som goda i sammanhanget.

Jag citerar:
"Barack Obamas administration föregick med gott exempel och lovade att USA skulle minska sina utsläpp med en fjärdedel fram till år 2025, samt bistå med otaliga miljarder till en klimatfond för att ekonomiskt kompensera de utvecklingsländer som gör likadant. [...] Men redan innan förhandlingarna klargjorde kinesiska myndigheter att de endast kunde gå med på att alls minska sina utsläpp 'omkring år 2030'. [...] Dels att Parisavtalet för Kinas del i princip inte innebär några som helst åtaganden. Bara en dåre hade hoppat av detta avtal med de villkor som Kina så kompromisslöst förhandlade sig till i Paris."

Citat från De kidnappade Kinasvenskarna, av Jojje Olsson, sid 213-214.
Uppgifter

Kategori: Ord & Words
Write comment (0 Comments)
För några veckor sedan, 30 maj, rapporterade Smålandsposten om ett barn som fick benet uppskuret bär han badade i Evedal. Han trampade på en rostig grill som han inte såg i strandkanten, som någon slängt där.
Pappan säger till Smålandsposten skamligt att det här kan hända på en kommunal badplats. Att det finns folk som ska ta hand om städningen.
Att pappan är upprörd har jag full förståelse. Och kanske man i stundens hetta kan bli det på kommunen som inte städat.
Men åtminstone vid eftertanke tycker jag det vore mer förståeligt att bli upprörd och arg på den som slängt eller lämnat grillen. Den individen har missat sitt ansvar att städa upp efter sig.
Det personliga ansvaret kontra samhällets ansvar.
Henrik Hemrin
1 juli 2018
Uppgifter

Kategori: Ord & Words
Write comment (0 Comments)