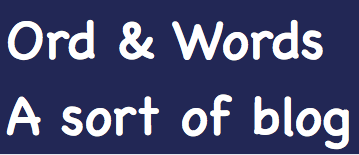 Med anledning av att gården Örestrand byter ägare till Höganäs kommun om ett par veckor så nertecknar jag dessa minnen. Örestrand ägs nu av Equmeniakyrkans fastighetsbolag, och tidigare av Södra Götalands distrikt (och andra varianter) av Svenska Missionskyrkan / Svenska Missionsförbundet (och dess ungdomsförbund).
Det är framför allt sommaren sommaren 1977 som jag var på Örestrand. Sommaren 1977 gick jag ett tre veckors konfirmationsläger på Örestrand.
Jag minns det som en ganska kall sommar. Trots att Örestrand ligger precis vid stranden badade jag inte någon gång. Och så var det för de flesta. Kylan bidrog till badfritt konfaläger, men också det skitiga vattnet gjorde bad oattraktivt. Som jag minns var det varierade skitigheten med hur vindarna låg. Jag har något minne av att någon, kanske ledare, noterade att badkläderna var skitiga efter badet. En dag var det i alla fall ett antal, kanske tiotal, som vuxendöpte sig i havet. Vi andra stod på stranden och frös.
Vi bodde i de barackliknande byggnaderna som låg utmed kanten på vad som borde vara den södra sidan (sidan mot Höganäs centrum). Jag tror de byggnaderna är rivna. Jag och en stor del av killarna bodde i den översta baracken. Det var inte så hög standard och det var lite småfuktigt. Jag minns någon silverfisk. Men det var ändå rätt trevligt, och jag delade rum med Fredrik C. som jag kände sedan gammalt hemma i Växjö. Fuktigt ja, toaletterna fanns i en av de andra byggnaderna i längan. Det var cementgolv och jag tror inte det var någon värme på där, så det var lite fruset att besöka toaletten den sommaren! Det kalla och fuktiga minnet inkluderar också att flera konfirmander var småsjuka och huvudledaren Arnold Ekros gick runt med termometer på fickan.
Annars var det ju förstås konfaläger med många lektioner i fokus! De flesta inomhus, men vi satt ute också ibland. Så det var inte bara dåligt väder! Jag minns också andra samlingar av olika slag. Lägerkör hade vi, och den stora slagdängan för lägret var "Soon and very soon". Då dånade det när kören sjöng ! Och alla måltider i huvudbyggnaden minns jag. Ledig tid fanns också, och bland annat gick vi ner till Höganäs centrum några gånger eller gick utmed stranden och utforskade militära anläggningar. Det var många skåningar på lägret, så det blev allt lite skånska inslag i mitt tal efter tre veckor!
Konfirmationshögtiden var i Helsingborgs missionskyrka. På den tiden fanns ingen kyrkobyggnad på Örestrand. Festmiddag tillsammans med släktingar efter konfirmationen inmundigades på Örestrand.
Konfalägret var mitt första och största sammanträffande med Örestrand. Det var glada minnen och många jag lärde känna på lägret. Därför var det roligt att återvända till Örestrand ett flertal gånger under åren. Främst var jag på Örestrand på midsommarafton, tillsammans med mina föräldrar. Det var massor av folk som firade midsommar på Örestrand! Det var många som ville vara på Örestrand under midsommaraftnarna! Vi bilade ner under eftermiddagen och hemfärden avslutades i midsommardagens morgonljus.
Henrik Hemrin
Uppgifter

Kategori: Ord & Words
Write comment (0 Comments)
Traditionellt loggar man in på en webbsida med ett användarnamn och lösenord, och eventuellt ett steg ytterligare (tvåfaktorautentisering). Numera har det blivit fler och fler större svenska hemsidor som gått över till Bank-ID istället för lösenord. Eller gått över - det är just det.
Jag har noterat att flera hemsidor som numera har Bank-ID även har kvar lösenord. Det kan ju vara okej. Det jag dock tycker är konstigt är att man inte kan avaktivera lösenord. För om man väl bestämt sig för att använda Bank-ID, varför ska jag då kunna använda lösenord?
Ur säkerhetssynpunkt skulle jag vilja kunna inaktivera lösenord. Jag har frågat tre relativt stora företag/organisationer om jag kan inaktivera möjligheten till lösenord, men samtliga dessa tre har sagt nej. En sa att man inte kommer åt alla funktioner med lösenord.
Jag måste alltså fortsätta att se till att ha ett säkert lösenord, trots att jag använder Bank-ID på dessa hemsidor.
#internetsäkerhet #lösenord
Uppgifter

Kategori: Ord & Words
Write comment (0 Comments)
Our life is more than ourselves. We live in relationships to other persons.
In Physics Today, May 2018 issue, Lloyd Knox writes a review of the new book "Losing the Nobel Prize. A Story of Cosmology, Ambition, and the Perils of Science's Highest Honor", by Brian Keating.
Quoting the book review in Physics Today:
"For example, Keating writes about having to leave Antarctica to help his ailing, estranged father: 'The irony of it all was painful. For years I'd dedicated my life to trying to reveal the cosmos's origin story, even though my own version was mostly a mystery. Then, suddenly, just when the telescope I'd 'sired' had reached adolescence, I was forced to abandon it, just to comfort a man who'd left me as a child. In my gut, I knew there'd be many telescopes to come, but I only had one father, flaws and all.'"
We do not live isolated from other. We cannot always do what we plan. Even if we are a big scientist with a dream project. Life changes our plans. Sometimes plans have to be changed, or paused. That is part of being a human being.
(This article has also been published on LinkedIn)
Uppgifter

Kategori: Ord & Words
Write comment (0 Comments)
Internet Privacy:
I have added DuckDuckGo Privacy extension to my browser. DuckDuckGo is not only a privacy search engine (not collecting data like eg Google does).
Here is an example how the the Privacy works.
Snapshot one where advertisements and a lot of other invisible trackers are stopped.
The second snapshot is when I have added the site to the White List (for example when I trust the site and want to support them to have ad income).
#Privacy #DuckDuckGo #Trackers #InternetPrivacy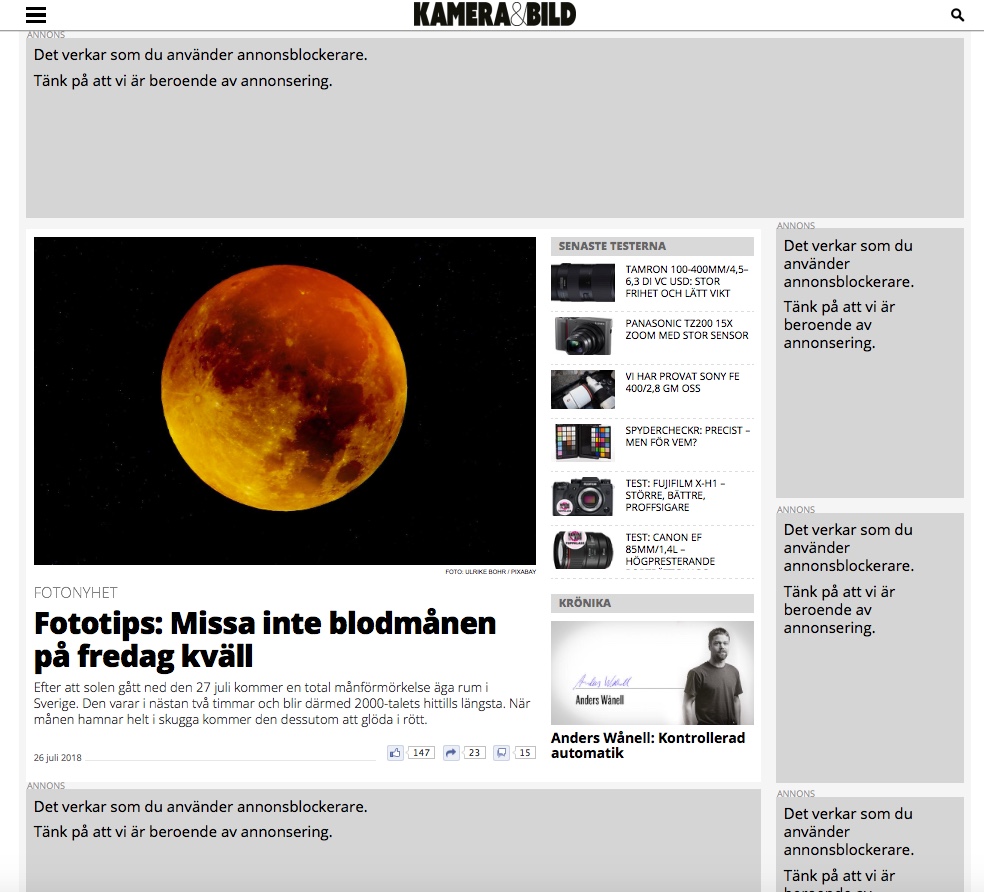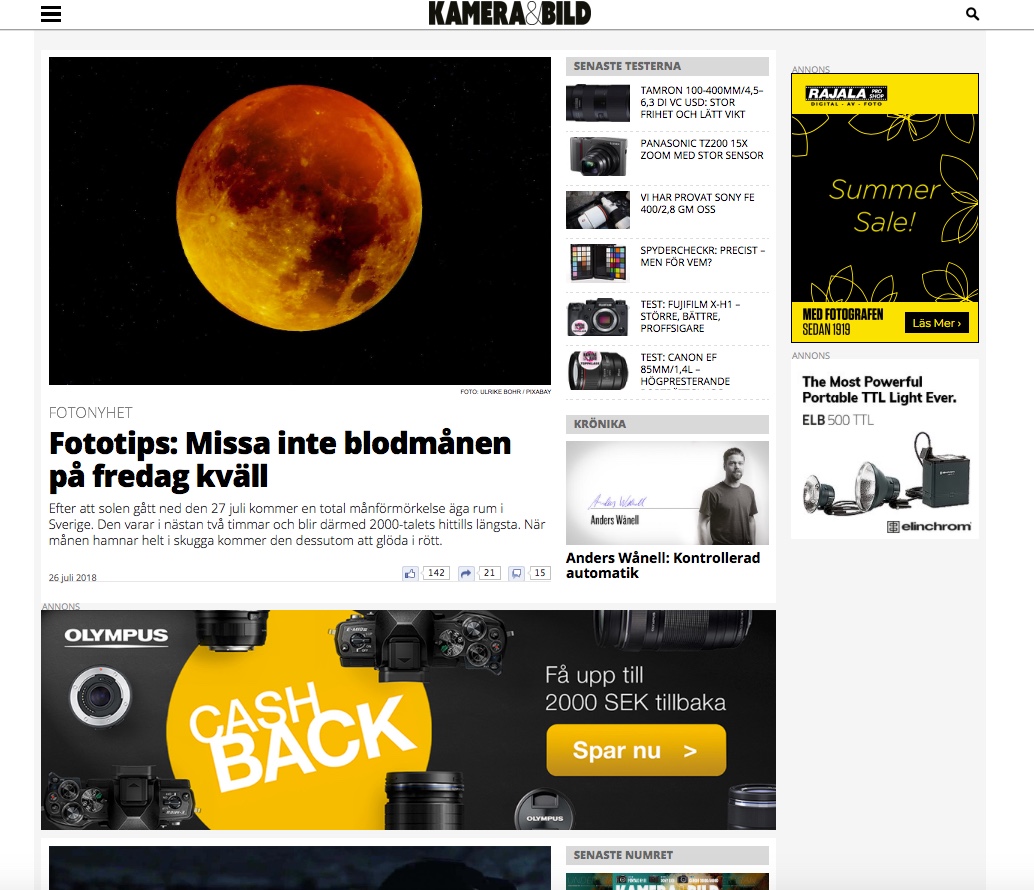 (This article has also been published on LinkedIn.)
Uppgifter

Kategori: Ord & Words
Write comment (0 Comments)
USA har fått berättigad kritik för att de dragit sig ur Parisavtalet. Samtidigt har Kina ibland setts som goda när de klargjort att de stannar kvar. Men, det är olämpligt att därmed se Kina som goda i sammanhanget.

Jag citerar:
"Barack Obamas administration föregick med gott exempel och lovade att USA skulle minska sina utsläpp med en fjärdedel fram till år 2025, samt bistå med otaliga miljarder till en klimatfond för att ekonomiskt kompensera de utvecklingsländer som gör likadant. [...] Men redan innan förhandlingarna klargjorde kinesiska myndigheter att de endast kunde gå med på att alls minska sina utsläpp 'omkring år 2030'. [...] Dels att Parisavtalet för Kinas del i princip inte innebär några som helst åtaganden. Bara en dåre hade hoppat av detta avtal med de villkor som Kina så kompromisslöst förhandlade sig till i Paris."

Citat från De kidnappade Kinasvenskarna, av Jojje Olsson, sid 213-214.
Uppgifter

Kategori: Ord & Words
Write comment (0 Comments)
För några veckor sedan, 30 maj, rapporterade Smålandsposten om ett barn som fick benet uppskuret bär han badade i Evedal. Han trampade på en rostig grill som han inte såg i strandkanten, som någon slängt där.
Pappan säger till Smålandsposten skamligt att det här kan hända på en kommunal badplats. Att det finns folk som ska ta hand om städningen.
Att pappan är upprörd har jag full förståelse. Och kanske man i stundens hetta kan bli det på kommunen som inte städat.
Men åtminstone vid eftertanke tycker jag det vore mer förståeligt att bli upprörd och arg på den som slängt eller lämnat grillen. Den individen har missat sitt ansvar att städa upp efter sig.
Det personliga ansvaret kontra samhällets ansvar.
Henrik Hemrin
1 juli 2018
Uppgifter

Kategori: Ord & Words
Write comment (0 Comments)

English below
För en tid sedan sökte jag ett jobb. Jag hade skickat in sedvanliga handlingar, haft en kortare intervju och gjort två olika tester. Nu var det dags för en längre intervju. Rekryteraren berättade att även om hon hade mina handlingar, så ville hon också ta mig muntligt igenom min historia.
Det är de första frågorna under intervjun jag tänkte dela idag. I övrigt löpte intervjun bra och det var inte några konstigheter.
Hur kommer det sig att du valde den linje du valde på gymnasiet? Vad tänkte du att du skulle jobba med?
Som information till dig, käre läsare av detta inlägg, så gick jag fyraårigt tekniskt gymnasium, teleteknisk variant. Jag minns att jag hade lite svårt att föreställa mig vad jag skulle kunna bli av det. Men jag minns att jag tänkte att kanske kunde jag bli TV-reparatör på Radar (en dåtida elektronikfirma i stan). Jag började gymnasiet 1979.
Jag minns inte hur jag svarade på frågorna i intervjun. Det är inte helt lätt att minnas hur jag tänkte mig min yrkeskarriär för 39 år sedan.
Jag funderar fortfarande på frågornas relevans för ett jobb jag söker 2018.
/Henrik
---
A while ago, I sent a job application. I had handed in the usual documents, had a short interview and took two tests. Now it was time for a longer interview. The recruiter told me, that although she had my papers, she wanted to walk through my story.
It is the first questions in the interview I want to share today. The rest of the interview went on well and nothing strange.
How come you choose the course you did select in gymnasium (eg senior high school)? What did you think of be working with after studies?
For information to you, my dear reader of this contribution; I went to a four year technical gymnasium, telecom variant. I recall I had difficulties to picture what job I could get. But I remember I thought I maybe could repair TV-sets at Radar (a local electronic shop). I started the gymnasium 1979.
I do not remember how I answered the questions in the interview. It is not so easy to recall my thoughts about the coming professional career 39 years ago.
I still ponder the relevance of the questions for a job I applied to 2018.
/Henrik 2018-06-27
Även publicerad på LinkedIn.
Uppgifter

Kategori: Ord & Words
Write comment (0 Comments)