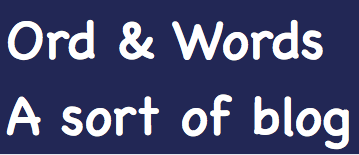 USA har fått berättigad kritik för att de dragit sig ur Parisavtalet. Samtidigt har Kina ibland setts som goda när de klargjort att de stannar kvar. Men, det är olämpligt att därmed se Kina som goda i sammanhanget.

Jag citerar:
"Barack Obamas administration föregick med gott exempel och lovade att USA skulle minska sina utsläpp med en fjärdedel fram till år 2025, samt bistå med otaliga miljarder till en klimatfond för att ekonomiskt kompensera de utvecklingsländer som gör likadant. [...] Men redan innan förhandlingarna klargjorde kinesiska myndigheter att de endast kunde gå med på att alls minska sina utsläpp 'omkring år 2030'. [...] Dels att Parisavtalet för Kinas del i princip inte innebär några som helst åtaganden. Bara en dåre hade hoppat av detta avtal med de villkor som Kina så kompromisslöst förhandlade sig till i Paris."

Citat från De kidnappade Kinasvenskarna, av Jojje Olsson, sid 213-214.
Uppgifter

Kategori: Ord & Words
Write comment (0 Comments)
För några veckor sedan, 30 maj, rapporterade Smålandsposten om ett barn som fick benet uppskuret bär han badade i Evedal. Han trampade på en rostig grill som han inte såg i strandkanten, som någon slängt där.
Pappan säger till Smålandsposten skamligt att det här kan hända på en kommunal badplats. Att det finns folk som ska ta hand om städningen.
Att pappan är upprörd har jag full förståelse. Och kanske man i stundens hetta kan bli det på kommunen som inte städat.
Men åtminstone vid eftertanke tycker jag det vore mer förståeligt att bli upprörd och arg på den som slängt eller lämnat grillen. Den individen har missat sitt ansvar att städa upp efter sig.
Det personliga ansvaret kontra samhällets ansvar.
Henrik Hemrin
1 juli 2018
Uppgifter

Kategori: Ord & Words
Write comment (0 Comments)

English below
För en tid sedan sökte jag ett jobb. Jag hade skickat in sedvanliga handlingar, haft en kortare intervju och gjort två olika tester. Nu var det dags för en längre intervju. Rekryteraren berättade att även om hon hade mina handlingar, så ville hon också ta mig muntligt igenom min historia.
Det är de första frågorna under intervjun jag tänkte dela idag. I övrigt löpte intervjun bra och det var inte några konstigheter.
Hur kommer det sig att du valde den linje du valde på gymnasiet? Vad tänkte du att du skulle jobba med?
Som information till dig, käre läsare av detta inlägg, så gick jag fyraårigt tekniskt gymnasium, teleteknisk variant. Jag minns att jag hade lite svårt att föreställa mig vad jag skulle kunna bli av det. Men jag minns att jag tänkte att kanske kunde jag bli TV-reparatör på Radar (en dåtida elektronikfirma i stan). Jag började gymnasiet 1979.
Jag minns inte hur jag svarade på frågorna i intervjun. Det är inte helt lätt att minnas hur jag tänkte mig min yrkeskarriär för 39 år sedan.
Jag funderar fortfarande på frågornas relevans för ett jobb jag söker 2018.
/Henrik
---
A while ago, I sent a job application. I had handed in the usual documents, had a short interview and took two tests. Now it was time for a longer interview. The recruiter told me, that although she had my papers, she wanted to walk through my story.
It is the first questions in the interview I want to share today. The rest of the interview went on well and nothing strange.
How come you choose the course you did select in gymnasium (eg senior high school)? What did you think of be working with after studies?
For information to you, my dear reader of this contribution; I went to a four year technical gymnasium, telecom variant. I recall I had difficulties to picture what job I could get. But I remember I thought I maybe could repair TV-sets at Radar (a local electronic shop). I started the gymnasium 1979.
I do not remember how I answered the questions in the interview. It is not so easy to recall my thoughts about the coming professional career 39 years ago.
I still ponder the relevance of the questions for a job I applied to 2018.
/Henrik 2018-06-27
Även publicerad på LinkedIn.
Uppgifter

Kategori: Ord & Words
Write comment (0 Comments)