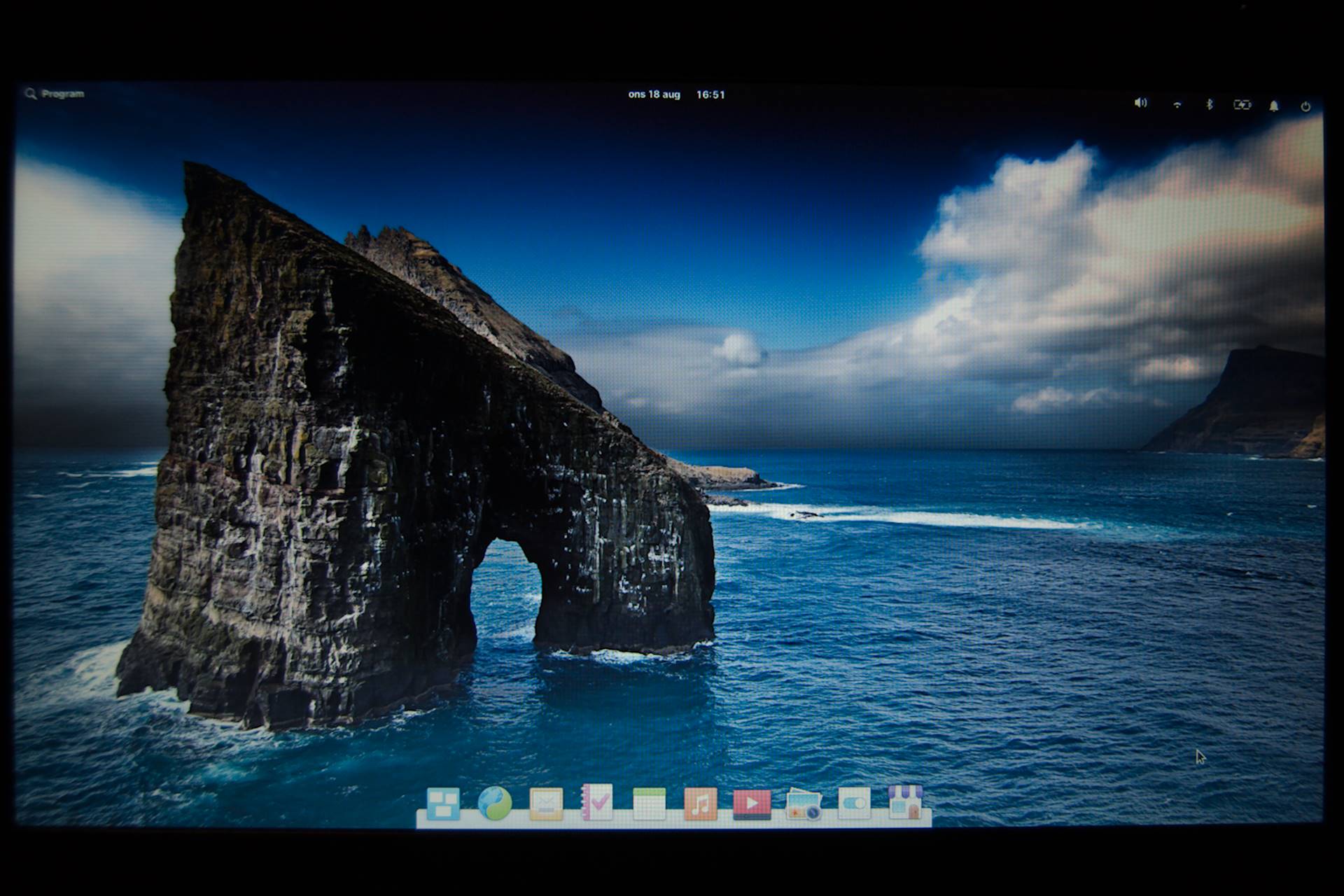 Exploring Linux OS: Elementary 6 Odin.
Hardware: Lenovo ThinkPad T430s; CPU 2.60 GHz Dual core, RAM 8 GB and SSD 250 GB. 14 inch screen with 1366x768 resolution.
Elementary 6 Odin was released a month ago. I downloaded and installed it only a few days after the release. Read elementary own blog post elementary OS 6 Odin Available Now for details about everything new in this release.
Elementary 6 goes FlatPak only. All software including in the AppCenter are FlatPak. I am not the software expert, but as far as I understand FlatPak is one of the container/sandbox/all in one box solutions to deliver and handle software in Linux. It means that "all" needed to run the application is within the box. The traditional handling as with e.g. deb packages, in my simple understanding, contains only of the software that is specific for that software and interact with other installed software (it has dependencies to other software). This should mean that a computer based on FlatPak generally will require more storage memory (drive space) than one that is based on deb packages.
Elementary emphasises its privacy and security focus. And I understand that with FlatPak applications it is easier for elementary to handle privacy and security, and have a good interface for those settings.
I asked on Twitter how FlatPak only in AppCenter will impact if I can use .deb and AppImage. Most important reactions:
@elementary responded: The same as before! It's your computer, you can do whatever you want with it. But we highly recommend sideloading apps from Flatpak and some platform features (like permissions) only work with Flatpak apps.
@icancclearynow responded: If you absolutely need AppImages, I've found this tool to particularly useful: https://github.com/TheAssassin/AppImageLauncher
@christophtill responded: Deb is possible to install. I would recommend to get Eddy from the AppCenter, which helps installing, updating and removing DEB Apps.
@probonopd responded: Please let the elementary OS developers know if you'd like to see better AppImage integration out of the box. In the meantime, here are some options: https://github.com/AppImage/awesome-appimage#appimage-consumption-tools
@bluesabredavis responded (regarding concern some FlatPak are not maintained, when developer distribute as eg .deb or AppImage): To be fair, Flathub does encourage and support the developers to own or take ownership of their Flatpak packaging. To be fair, Flathub does encourage and support the developers to own or take ownership of their Flatpak packaging.
The last comment above, was related to an experience I have of FlatPak (not from elementary AppCenter), that the FlatPak was so old and appeared to be handled by someone not related to the designer.
The AppCenter currently holds few applications. Elementary I understand only include FlatPak applications in the AppCenter that are curated by elementary, hence up to date and working well with elementary. And it is possible to install from other repositories as well.
I installed elementary 5 Hera one and a half year ago, see Exploring Linux OS: elementary, part #1.
Although they have done a lot in the new release, the new release is an evolution. Like before, elementary 6 is very good looking, easy to understand and familiar look and feel for me who use macOS daily. Like before it is very few applications included in the installation. As before they also incourage to pay as I want to for elementary as well as applications, but at the same time it is free to use (without any limitation) not to pay. My standpoint is that for all free and open software, really consider and act to donate or in one way or another contribute.
I do like elementary. But I do like Mint better. I have a bit of problem with elementary having so few applications in the installation and at the same time very few in the AppCenter. The lack of an office suite is fundamental to me. I can hardly think of myself not having office suite on my computer. I wonder if they think people should use cloud services for that? As it is now, I cannot think of using elementary as my daily driver without other software that their own. It is fully possible to install other software, but then I think some of the advantages with elementary are lost. Because I think elementary is at its best if you stay within their "ecosystem". Elementary indeed has an appeal on me, and congratulations to everyone who feel its the best operating system for you! I will keep an eye on elementary and for time being keep it on a partition and use it now and then. If I get a spare computer, especially an Apple, I may save it for elementary.
Remarks about my installation of elementary 6
General
I downloaded the software and flashed a USB-memory with the iso in a normal manner. Like before, only one variant of elementary exist.
There is no upgrade path available from elementary 5 to elementary 6. My intention was to install on same partition as elementary 5, i.e. write over the older release. However, after installation I had instead overwritten ny Debian 10 partition... I am pretty sure it was my mistake.
Specific issue
When I started the live-USB, I got error messages. It was three error messages:
[0.108553] x86/cpu: VMX (outside TXT disabled by BIOS
[2.266619] sd 6:0:0:0: [sdb] No cashing mode pagre found
[2.266620] sd 6:0:0:0: [sdb] Assuming drive cashe: write through
This follows a lot of text, the USB-stick was checked and finally "Check finished: no errors found" and the the live-USB starts up as normal after several minutes after I started.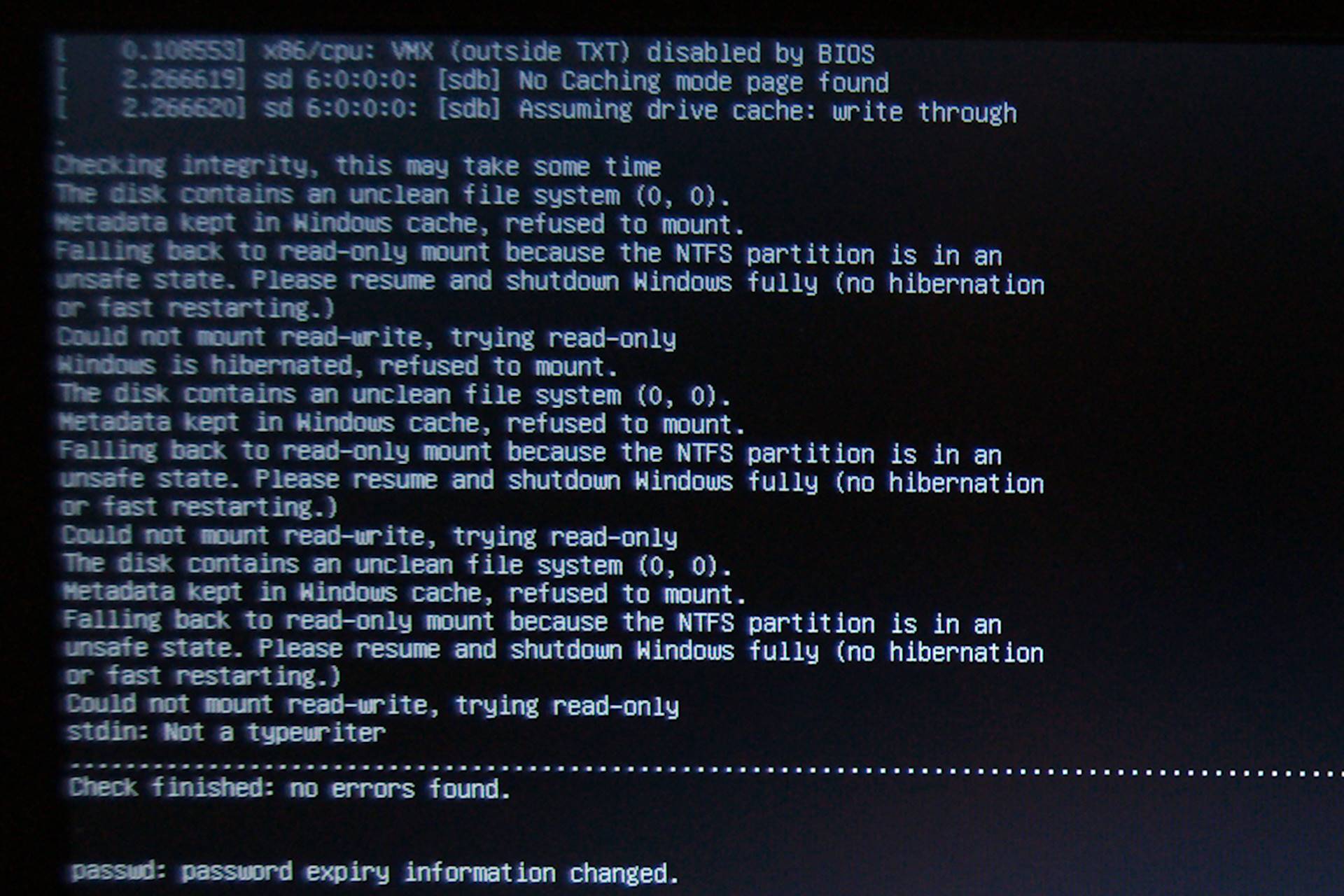 I could get rid of the first error message by enable virtualization in the BIOS settings, but the other two I have not been able to solve.
However, despite above, I could install elementary.
When I start the installed elementary 6, it first shows some "terminal text" and also when shut off. This is different to my earlier elementary 5 installation.
Henrik Hemrin
6 September 2021
Uppgifter

Kategori: Knowledge - Kunskap
Write comment (0 Comments)
When I ruined my laptop from starting - and fixed it.
First wave
Background and about GRUB boot menu
Most common is to have only one operating system on a computer. But on this laptop, Lenovo ThinkPad T430s, I have several operating systems. At this point I had six operating systems; Microsoft Windows and five variants of Linux operating systems. All on same SSD drive, but on different partitions of the drive.
Partition means that the physical drive is splitted into several parts softwarewise. This works so that when I start the laptop, it will not start an operating system directly. Instead it will open a menu with all operating systems listed and I can select which one to start. If I wait a couple of seconds, it will start the default one automatically.
This menu is called GRUB, GRand Unified Bootloader, or actually GRUB 2 for the second generation (first generation is now renamed to GRUB legacy).
If Windows is one of the operating systems, it is recommended to install Windows first followed by the Linux operating system(s). The GRUB menu is handled by the latest installed operating system.
The task
Below is my GRUB menu when I started this task. The information in brackets for each entry states which partition it is on. For any reason, the GRUB menu does not tell the partition for the first default operating system.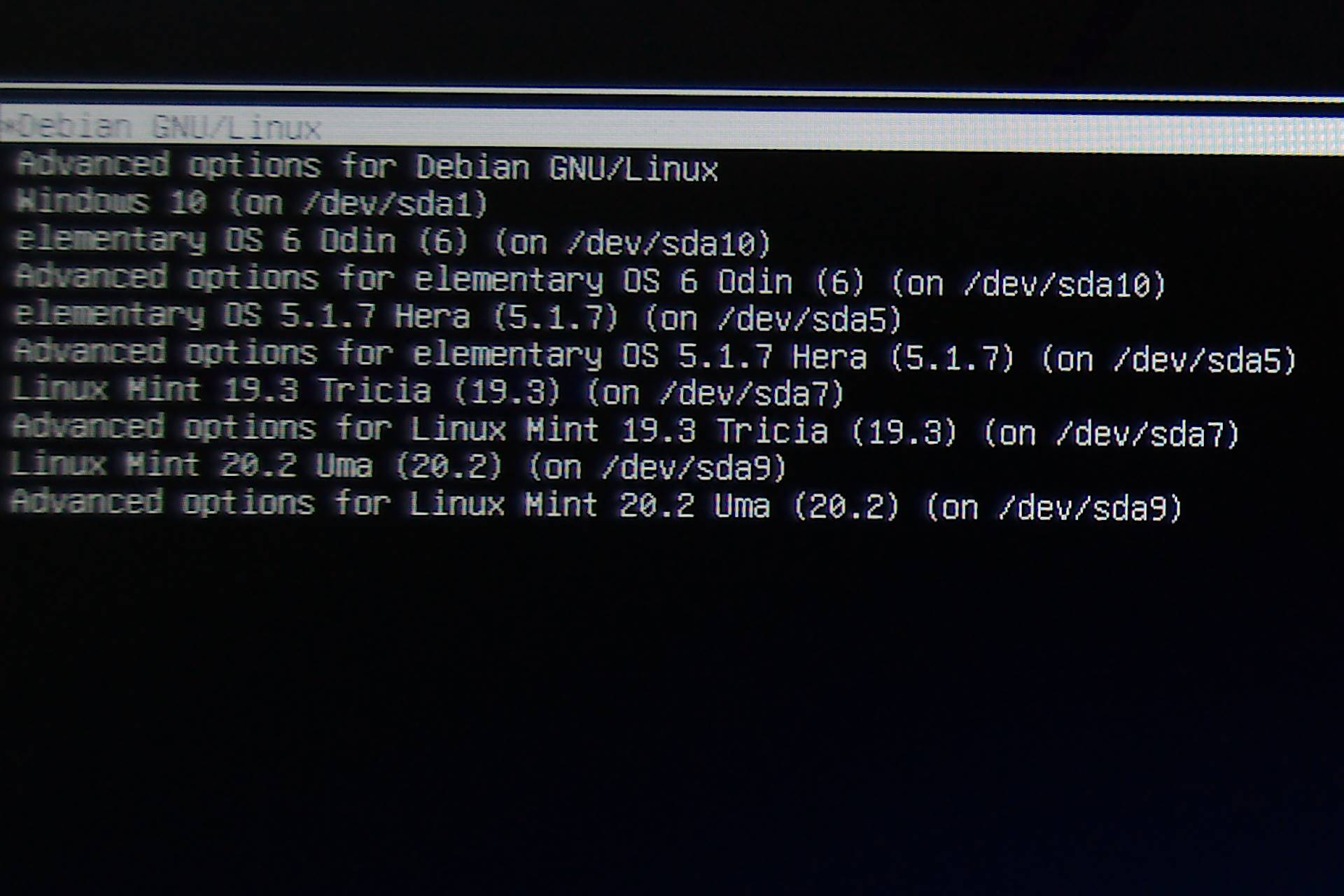 So now to my task: To delete the operating systems I do not want anymore and by that free up space on the drive. It is the first time I do this. I have been hesitant to do this as I have been concerned for troubles, although I have tried to learn how to and not to do. Yeah...
It is sda5 (elementary 5) and sda7 (Mint 19) I plan to delete. The tool I use is GParted (here with menu in Swedish).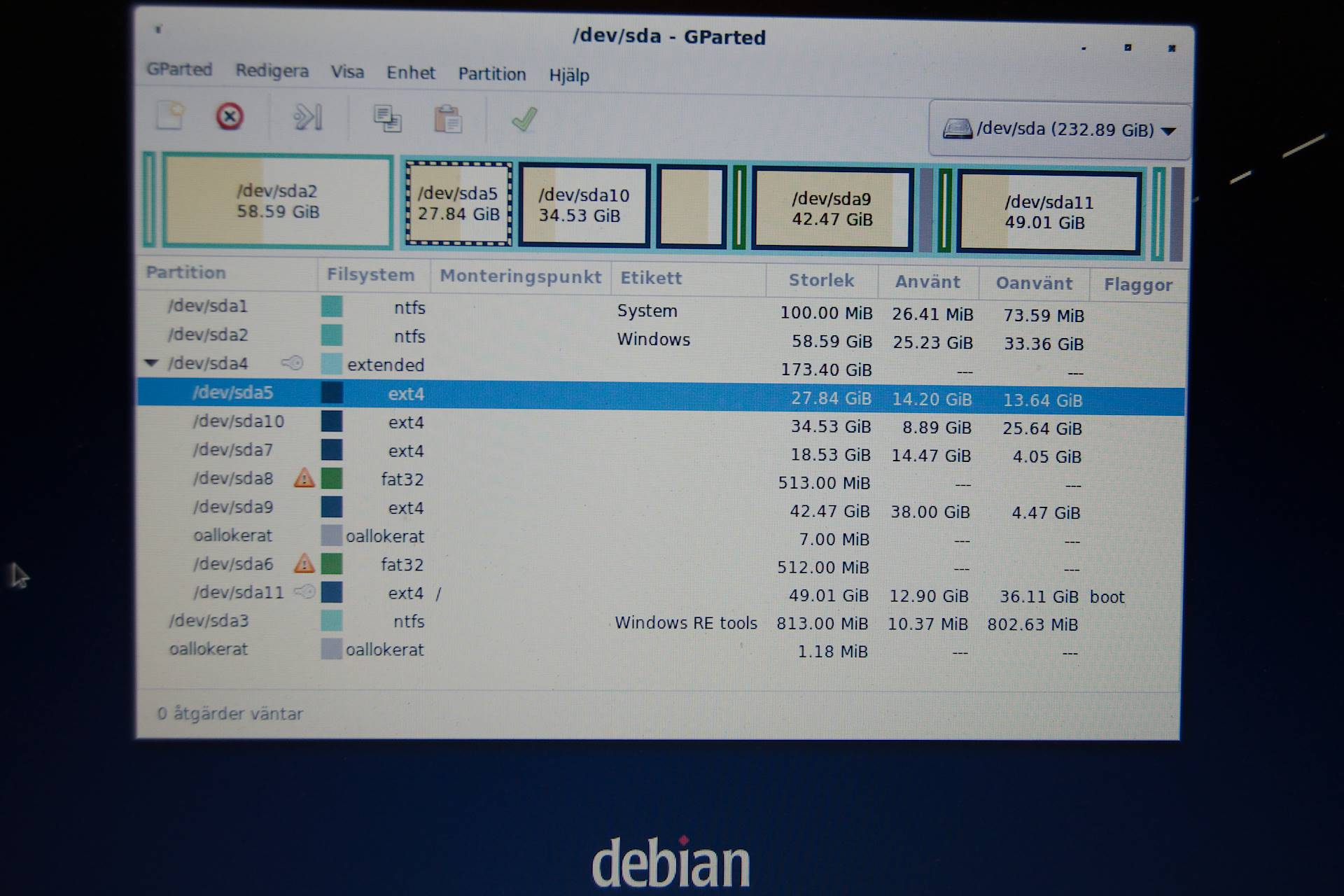 I start GParted from the latest installed operating system, i.e. Debian 11 on sda11. I delete sda5. However, when I try to execute the delete action, a pop-up message tells me (in Swedish): Please unmount all logical partitions higher than 5.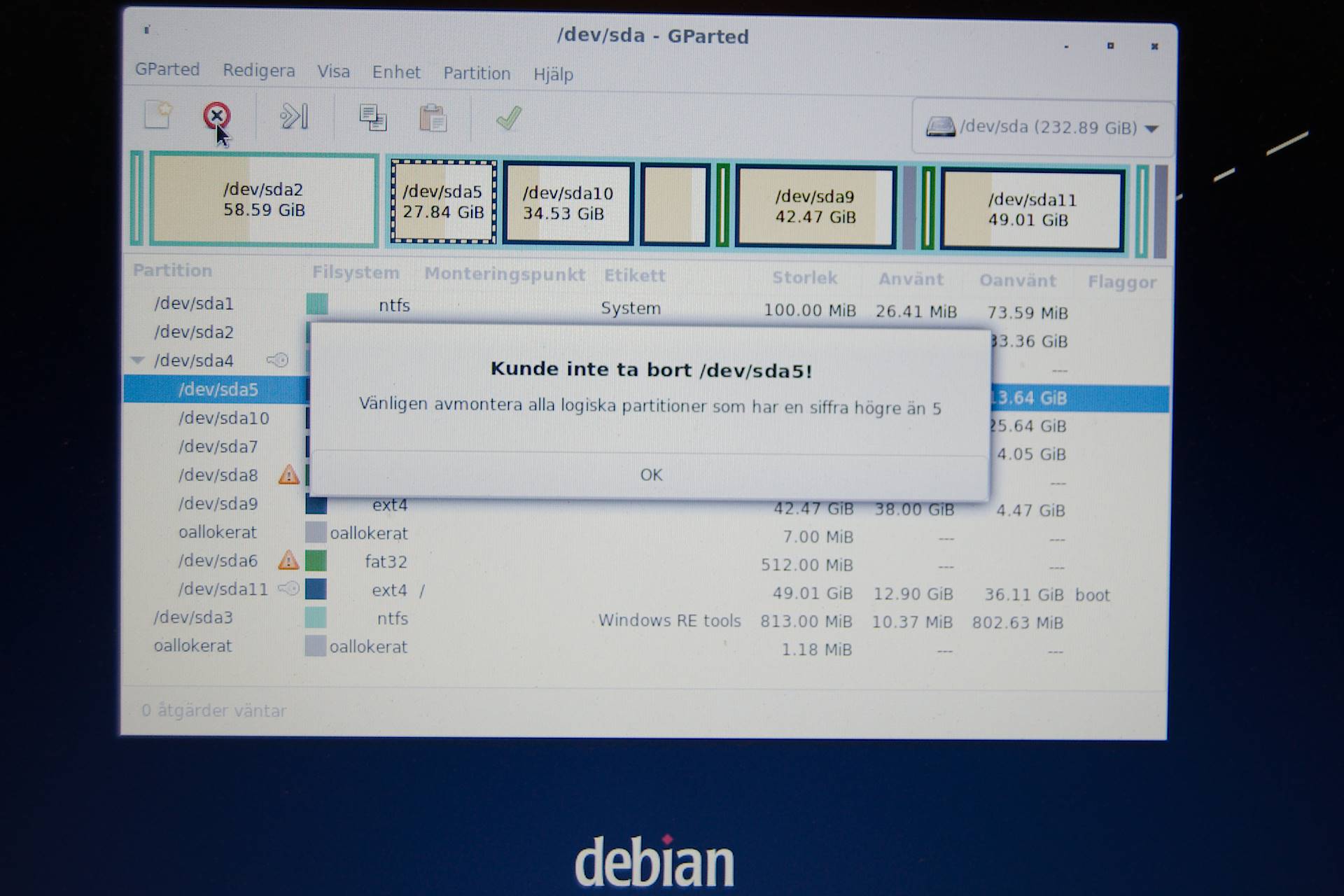 This is impossible to do as I am working from sda11. I cannot figure out how I could move to a lower sda than 5 and execute from there. I believe it is possible to handle from it Windows which is on a lower number, but I have not explored how to do it from Windows.
So, as next step I instead start elementary 5 on sda5. From there I can without any problem delete Mint 19 on sda7, because all sda´s higher than 5 are unmounted. However, I did not foresee this would renumber the sda´s above sda7. Because automatically sda11, which holds the GRUB meny, becomes sda10.
If I now had started the terminal and executed "sudo update-grub", it had probably repaired the GRUB menu and the computer had worked. But it still had not solved how to delete partition sda5.
But I do not execute the "sudo update-grub"command. Instead I restart the laptop. Now the GRUB meny can not be found... because booting is looking for sda11 that does not exist. Instead GRUB rescue menu starts. But, I skip the GRUB rescue tool. Instead I insert a USB-memory with a live-version of Debian 11 and restart the computer. It actually is the same Debian 11 as I used when I installed Debian 11 a few days earlier, but any live-USB would do.
I open the terminal window to follow the instruction in the article "How to Fix Grub error: no such partition Grub Rescue". I know I should not type commands I find on the internet and do not understand. But I decide this is a credible source. Most steps works well. But in the latter steps, when I tabulate to select Yes, I cannot get it to accept and execute. Restart of the computer confirms my repair has not worked.
While pondering what to do, I leave the terminal and start GParted on the live-USB (I had to install it from the Debian repository, but no issue to do that). I delete sda5, which is no problem at all from the live-USB.
Now I am considering what to do to repair the GRUB. Should I ran the command instruction in the terminal again? Another option can likely been a USB/CD with repair tools (I have some CDs in a box).
However, I decide to test a simple and dirty method: The Debian 11 Bullseye on the drive was installed only a few days ago. Beside a few settings, nothing important. So I decide to install Debian again, overwriting on the same partition.
And yes, the new installation works and it also fix the GRUB issues! The reinstallation is the latest installed operating system and GRUB is connected to it.
For fun, I also test the command "sudo update-grub" from the terminal, and it works to refresh the GRUB meny.
Next time
My conclusion of how I believe I should have done this from start to avoid any problem:
Do all of the work from the live-USB from beginning.
Start the GParted on the live-USB and delete both sda´s I did not want any more.
Open the terminal and execute the command "sudo update-grub".
When I then restart the computer, I believe it all had worked properly.
At least this is my thought strategy for next time.
A final note. Before I started all above, all essential data on the whole drive was stored on backup. So even if everything had been lost on the drive, it would not have caused me any big trouble.
Second wave
Now, a couple of months later, it is time to continue to cleanup the same SSD drive. I have moved the Microsoft Windows 10 Pro to a separate SSD drive and will therefore delete Windows from this drive. I also have some unallocated partitions and more that I can cleanup. My goal for this exercise is to only have partitions for three Linux operating systems; Debian, Elementary and Mint, plus a swap partition.
This time I will try ot do it without the troubles I got into last time. I look at my three Next time bullets above. I start a live-USB. Before I start the cleanup with the GParted tool, I try the "sudo update-grub" command in the terminal. But it does not work. I did not think about it last time, but it is reasonable it will not work directly because I must first come in to the relevant partition on the SSD drive. Beside mounting of the partition, there are several commands needed to execute, to reach the goal, ie kind of complicated for a novice like myself.
So, I decide for another strategy. The Linux Mint live-USB (I used Linux Mint 20.2 Cinnamon) is handy, because it includes a few "repair tools" that are useful. From the Linux Mint live-USB I use two tools: GParted and Boot Repair tools. And this way, it works! I cleanup the SSD drive with GParted. The work includes many steps to "move around" partitions, but finally I have achieved the partitions as I planned, and no unallocated waste. The Boot Repair tool works very well to analyze the boot system, and the Recommended repair that runs by itself makes the job to fix the Grub menu.
With the advanced option I also change the boot order in the GRUB menu; normally the latest installed operating system will be the default one in boot order, but here it is possible to change the boot order. In my case, I changed to Linux Mint. However the GRUB background is not the standard one delivered by Linux Mint. When I start Linux Mint, I open the terminal and run the "sudo update-grub" command, and next time the standard Linux Mint Grub background appears.
It is good to always have a live-USB with a operating system available in those situations. And especially one like Linux Mint which has included some additional tools. A dedicate rescue USB (or CD) with multiple repair tools can also be good to have in the pocket for more serious issues.
My second wave of disk cleanup and GRUB boot repair went smoothly!
Henrik Hemrin
31 August 2021 and 1 November 2021 (second wave)

Uppgifter

Kategori: Knowledge - Kunskap
Write comment (0 Comments)
The Guardian skriver i dagarna mycket om spionprogrammet Pegasus från israeliska NSO Group. De skriver om hur det installerats i bland annat journalisters telefoner. Och hur det installeras utan att användaren aktivt gör något och utan att användaren märker något.
Erik de la Reguera skriver i sin artikel Avlyssning på entreprenad gör vanliga medborgare till stora förlorare i Dagens nyheter den 21 juli som avslutning att "Trots rubrikerna om statschefer lär därför signalspaning på entreprenad slå hårdast mot andra grupper: demokrati- och människorättsaktivister, journalister och alla vanliga medborgare som då och då vill kunna skriva, prata och surfa i fred."
Det får mig att åter tänka på pågående utveckling av två mobiltelefoner som jag följt under längre tid: PinePhone från Pine 64 och Librem 5 från Purism. De har flera likheter. PinePhone ligger i ett lägre prissegment än Librem 5.
Bägge telefonerna har fysiska switchar för vissa funktioner, bland annat mikrofonen. Man kan alltså stänga av mikrofonen mekaniskt med en switch så den är elektriskt avskuren och därmed går det inte att avlyssna mikrofonen medan man stängt av den.
Bägge telefonerna har också löstagbara batterier så att man enkelt kan byta batteri när det åldrats. Det är rimligen också bra ur säkerhetsvinkel att man kan stänga av hela telefonen elektriskt genom att ta bort strömförsörjningen.
Inget av detta torde stoppa Pegasus helt, eftersom man måste ha saker påslagna och aktiverade om man själv ska kunna ha nytta av telefonen.
Nästa speciella sak med dessa telefoner är att de siktar på Linux operativsystem. PinePhone testas med ett flertal olika Linuxvarianter medan Librem 5 bygger på företagets egna Linuxvariant (PureOS), med mål att använda samma OS (operativsystem) som de har i sina vanliga datorer. Alla dessa är operativsystem open source och fria. Ur säkerhetssynpunkt är det bra genom att vem som helst (med programmeringskompetens) kan granska källkoden. Även att Linux är mer udda, än så länge, kan vara en fördel säkerhetsmässigt eftersom den därmed är mindre utsatt för säkerhetsproblem. Den öppna källkoden borde också öka möjligheten att avslöja om ett program som Pegasus installerats i lönndom.
Det här med utbytbara batterier är förstås bra ur miljösynpunkt. Men Linux operativsystem kan också vara något som är bra för att förlänga livet för mobilen och därmed miljöbra. Kyle Rankin på Purism skriver eller talar om detta och förklarar att man förfinar ofta Linux öppna programvaror genom åren så de blir lättare (men jag hittar inte referens enkelt). Alltså en Librem 5 kan komma att fungera bättre med åren. Android och iOS nya releaser gör ju snarast telefoner långsammare. Men finns förstås rimligen en relation till vilka nya funktioner som stoppas in. Purism har för övrigt visionen att mobilen ska kunna fungera som den fullfjädrade datorn genom att koppla den till stor skärm och tangentbord. Jag ser nu när jag kollar artikellänkar, att Kyle Rankin skrivit en ny bloggpost på Purism hemsida: Defending Against Spyware Like Pegasus.
Not: Android är också Linux, men ändå något sär-skilt från de Linux jag tänker på ovan.
Librem 5 satsar på produktion och kretsar tillverkade i USA som ännu ett led i deras säkerhetsarbete.
Ett stort aber med Linux operativsystem är att vanliga appar bara görs för Android och iOS. Åtminstone PinePhone går att köra med dual boot; ett operativsystem på interna minnet och ett operativsystem på minneskortet. Då skulle man alltså kunna ha Linux på det ena och Android i någon form med mer eller mindre Google i Android'en eller Androidliknande såsom Lineage på det andra för att komma åt att installera Android-appar. För att i mobilen på något vis ha tillgång till speciella appar såsom BankID, Swish, SJ (tågbiljetter) är trots allt till stor nytta att ha i mobilen, och då är man idag hänvisad till de stora drakarna.
Jag tycker dessa, och kanske några fler, "alternativa" mobiltelefoner fortsatt är intressanta att följa. Och jag är intresserad av att gå över till någon av dem. Men det stora hindret är just det här med vissa speciella appar. Vi får se!
Henrik Hemrin
24 juli 2021
Uppgifter

Kategori: Knowledge - Kunskap
Write comment (0 Comments)
The operating system Linux Mint has released a new version: Linux Mint 20.2 Uma. If you have release 20 or 20.1 installed, you can upgrade with the Update Manager. You can of course start a new installation directly with 20.2.
For all details about changes, release notes, detailed how to install and so on, please visit the Linux Mint website and their linked Linux Mint Blog. Troubles can be discussed in the Linux Mint Forum.
Before you update, do not forget to have fresh backup, license keys for software and so on that you do not want to loose, in case of trouble. Although computers are logical creatures, or because of that, upgrades can go wrong. Make sure also you are connected to power.
I started with my Lenovo ThinkPad T430s where I had Linux Mint 20.1 Cinnamon installed. When I started the upgrade, it worked extremely slow and I could find a message about the mirror was outdated. So I aborted the upgrade, changed to default sources for download and restarted. I installed all normal updates and then I went to the upgrade process again. This time the new release downloaded fast and installed fast as well, and the upgrade was completed in far less than ten minutes. Final step to restart, and no issue seen.
For my second laptop, Lenovo IdeaPad 100s where I had Linux Mint 20.1 Xfce installed, lesson learned and I started with changing to the default sources for download, I executed normal upgrades and then went on with the upgrade. For this very low spec laptop, the upgrade took just under ten minutes.
So, in short, a successful and smooth upgrade of Linux Mint,
Thanks Clem & Co!
Henrik Hemrin
15 July 2021
Uppgifter

Kategori: Knowledge - Kunskap
Write comment (0 Comments)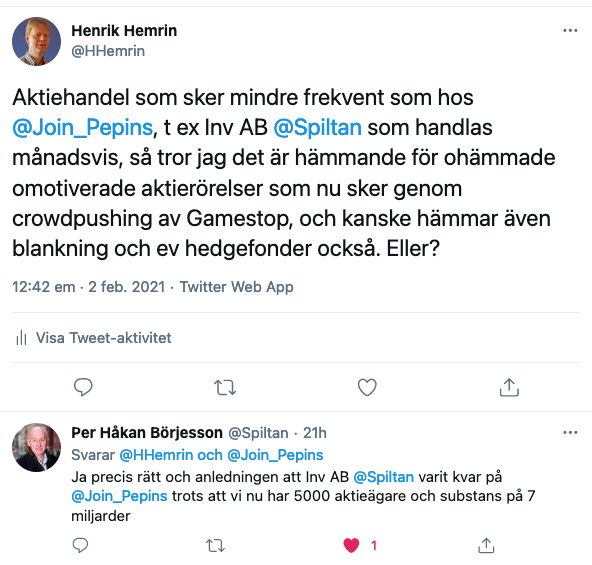 Företaget Gamestop har varit uppmärksammat i media de senaste dagarna. Om jag sammanfattar en del av uppmärksamheten såsom jag arkiverat informationen i mitt minne:
Gamestop är ett företag som har fysiska butiker som säljer datorspel. De har på senare tid inte gått så bra och har legat på en låg kurs jämfört med sina tidigare dagar.
Hedgefonder har gjort blankning i Gamestop-aktier; de har investerat i att Gamestop-aktien ska fortsätta att sjunka.
Samtidigt har i nätforum och särskilt forum på Reddit diskuterats att köpa Gamestop-aktier. Diskussionen har lett till att många köpt aktien. Detta att man i nätformum bestämt att köpa denna aktie är för mig oklart riktigt varför och vilka det är som gjort det. Det tycks som det kan finnas en blandning av idealistiska, politiska och ekonomiska vinstskäl bakom agerandet. Liksom att fler personer utanför de riktigt drivande hakat på. Köptrycket har höjt upp kursen rejält. Hedgefonderna som innan spekulerat i nedgång genom blankning i aktien har då fått riskminimera genom att själva köpa och därmed drivit upp kursen än mer.
Vad som är juridiskt, etiskt, moraliskt rätt och fel, försvarbart eller inte vet jag inte. Jag kan för lite för att ha en egen uppfattning.
När det gäller sparande så håller jag mig generellt till enkla former: traditionellt sparkonto, aktier och fonder som antingen sparar i aktier eller räntebärande papper. Dessa sparformer förstår jag någorlunda väl vad de är och hur de fungerar. Sämst av dem förstår jag nog räntebärande papper.
Det här med blankning har jag lite svårt att förstå, liksom att jag kan tycka att det känns lite osunt. Hedgefonder har jag heller inte riktigt begripit. Bara namnet "häckfonder" gör mig förvirrad. Kanske är både blankning och hedgefonder både bra och smarta former och metoder för att spara eller tjäna pengar.
Jag håller mig alltså till sparformer som jag någorlunda begriper, med risken att jag missar någon form som är bra.
Crowdpushing, fenomenet med diskussionsforum som skapat rusning i Gamestop, är intressant men som jag tycker spontant känns tveksamt. Att läsa och dela aktietips är förstås bra. Men crowdpushing och andra sätt som driver kurser på ett "osunt" sätt känns tveksamma tycker jag. Crowdpushing är för övrigt ett ord jag hittade på själv i detta sammanhang; jag försöker undvika engelska ord på svenska men "crowdfunding" är ett känt begrepp som gav mig inspiration till "crowdpushing".
Jag får en jämförande tanke till insiderhandel, som är förbjudet. Insiderhandel handlar om att jag har någon kunskap om ett företag som inte är allmänt känd, en kunskap som tros kunna vara kurspåverkande i någon riktning. Om jag har sådan kunskap, då förbjuder lagen mig att handla i den aktien. Nu kan diskussionsforumen vara öppna och då i princip tillgängliga för alla. Men jag tror att de kan vara svåra att hitta, liksom att de kan vara slutna, och då blir det lite som insiderhandel.
Nu till min huvudtanke för denna artikel:
Det finns marknadsplatser för aktiehandel där handeln inte sker så ofta. Den svenska som jag känner till är ett flertal listor hos Pepins marknadsplats. Pepins skriver:
"Vår handelsmodell är anpassad för att främja tillväxt och långsiktighet, därför sker handeln inte dagligen utan under en vecka i månaden. Modellen ger bolagen utrymme att fokusera på sin verksamhet och utveckling samtidigt som delägare får möjlighet att handla med sina aktier."
En sådan handelsmodell tror jag är hämmande för ohämmade omotiverade aktierörelser som nu sker genom crowdpushing av Gamestop. Kanske det också hämmar blankning och eventuellt hedgefonder också.
Jag la ut denna tanke på Twitter:
"Aktiehandel som sker mindre frekvent som hos @Join_Pepins, t ex Inv AB @Spiltan som handlas månadsvis, så tror jag det är hämmande för ohämmade omotiverade aktierörelser som nu sker genom crowdpushing av Gamestop, och kanske hämmar även blankning och ev hedgefonder också. Eller?"
Investment AB Spiltan är ett av bolagen som handlas på Pepins. Deras VD Per Håkan Börjesson höll med och svarade med denna tweet:
"Ja precis rätt och anledningen att Inv AB @Spiltan varit kvar på @Join_Pepins trots att vi nu har 5000 aktieägare och substans på 7 miljarder"
I skrivande stund finns också en annan person som kommenterat min tweet. Denne tycker annorlunda, att det istället vore bättre att handeln alltid är öppen, jämt och ständigt. Hela detta Twitterämne finns i denna Twitter-tråd.
Skrivet av mig som inte har någon formell utbildning i ämnet.
Henrik Hemrin
3 februari 2021
Uppgifter

Kategori: Knowledge - Kunskap
Write comment (0 Comments)
Jag uppdaterade Linux Mint operativsystem på två knädatorer idag, från release 20 till 20.1. Cinnamon på den ena och Xfce på den andra. Det tog ca 20 min per maskin inkl nerladdning. Allt fungerade smärtfritt.
Bland annat ingår två nya intressanta program i grundpaketet: Hypnotix och Web Apps.
Hypnotix är ett "ihopsamlingsprogram" för IPTV. Det som finns med i installationen är koppling till en "lista" med fri IPTV. Provade, verkar funka. Slog bl a på svenska Öppna kanalen som visade Bröderna Cartright, provade också någon nyhetskanal från England och USA. Det finns säkert andra liknande program, och man kan ju gå mer direkt, men den här verkar vara en smidig väg för att hitta en mängd kanaler.
Web Apps har jag inte provat men verkar smart. Det är när det är program som körs i webbläsare. Då kan man liksom skapa sig en egen App av den. Något i bakhuvudet säger att denna ursprungligen kommer från Peppermint OS, men jag kan minnas fel. Verkar smart i alla fall!
Henrik Hemrin
10 januari 2021
Uppgifter

Kategori: Knowledge - Kunskap
Write comment (0 Comments)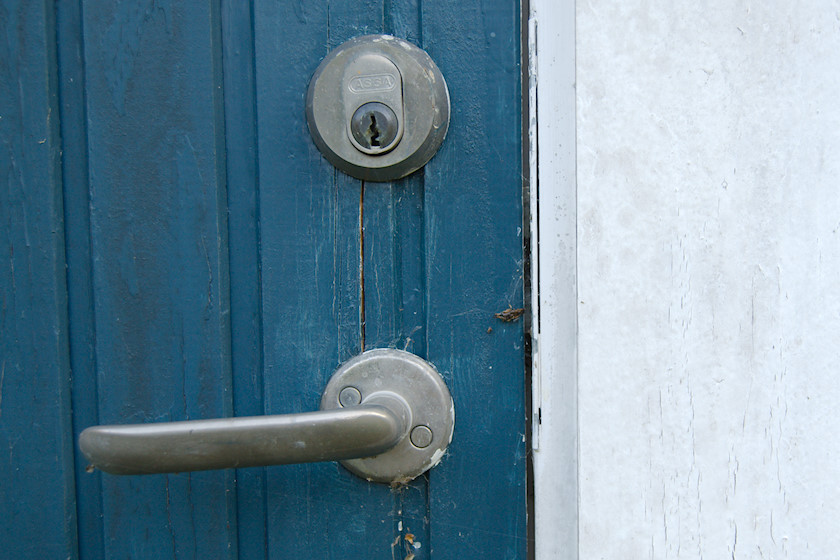 Introduction
This article is about do what you can to protect your login credentials to keep your accounts protected. It is relevant for any type of computer; desktop, laptop, tablet or a smart mobile phone. And don't forget your router, switch and other connected devices. When I write about accounts, I mean all like Google, Microsoft, Facebook, Elgiganten, Adlibris and so on.
"Nobody gets hacked. To get hacked you need somebody with 197 IQ and he needs about 15 percent of your password." Said President Donald Trump in a 9 s video clip linked on Twitter. Forbes has published a related article; Trump 'Nobody Gets Hacked' Video Goes Viral written by Kate O'Flaherty, Oct 20, 2020. The article clearly states the President is wrong.
Techcrunch reported 22 October 2020 in the article President Trump's Twitter accessed by security expert who guessed password 'maga2020!' A Dutch security researcher accessed Trumps Twitter account by guessing his password, only a few days after Trumps speech. The article tells his Twitter was also hacked in the same manner in 2016, when a hacker tested "youarefired". This was a Trump password on LinkedIn, which had been exposed in a data breach back in 2012, and apperently he reused it on Twitter. At the Twitter hack now in October, Trump did not use a two-factor-authentification (2FA).
Use two factor authentication (2FA) whenever possible
The first factor is the password. A password is a knowledge you have in your brain, or anywhere else. It is a soft code, and static. The second factor is in addition to the password and requires a physical device to access or generate a second code, which is dynamic. One common method for the 2FA is a code via SMS. Another method, more secure, is a code generated by a special application you have in your phone or other device.
The book Hacking Multifactor Authentication by Roger A Grimes was released in October 2020. When I (hopefully) have read it, I may have to alter what I write here and now.
Change password as soon as it has been leaked one way or another
As soon as someone know your password, you can take for granted it is known by the whole world.
Use same password only once
Do not re-use a password on multiple accounts. Once it has been broken on one of your accounts, assume it will be tried on other accounts as well. To minimize damage, have a unique password for each login. If you do have same password, you should change it at all places immideately after it has been revealed at one of your accounts. But it may take some time until you know it has been exposed, so eventually someone already has walked into your other accounts. So, act now instead of waiting for a problem! I would add recommendation to not use your e.g. Google or Facebook account to login to other accounts.
Avoid the most stupid and simple passwords
Do not use "password01" as your password, your name and other very simple or stupid words.
The data base at "Have I Been Pwned" stores information about data breaches of user accounts. Those data breaches are generally not our fault as end user, but we get affected. Breaches are numerous, almost countless. Those breaches origins from that someone has gotten access to the data bases where registration is stored. Have I Been Pwned started to collect those breaches after the famous breach of Adobe.
Regarding relatively simple passwords, for fun I check some simple passwords to find out if they have been exposed in a data breach. It gives a hint how many persons that use the same password (same person can have been exposed multiple times in different data breaches). The result page, beside the number states "Oh no — pwned! This password has been seen [number] times before This password has previously appeared in a data breach and should never be used. If you've ever used it anywhere before, change it!"
| | |
| --- | --- |
| harrypotter | 54 198 |
| kalleanka | 4 195 |
| stockholm | 6 320 |
| gnaget | 2317 |
| bajen | 437 |
| bajen123 | 299 |
| mamma | 20 739 |
| pappa | 2650 |
| maga2020 | 60 |
| youarefired | 17 |
In the Have I Been Pwned data base, it is also possible to check if an e-mail has been part of a data breach. e-mail is as you know often used as the identity in registrations. To play, I insert the (assumed) company e-mail address of the former Ericsson CEO; Den här e-postadressen skyddas mot spambots. Du måste tillåta JavaScript för att se den.. Have I Been Pwned answer:
"Oh no — pwned! Pwned on 9 breached sites and found 1 paste." Then follows a list of where those breaches happened. Remark: Hans Vestberg is no longer working at Ericsson, he currently is Chairman and CEO of Verizon.
A CEO as well as you and I can have breaches of our accounts at one or many sites. Me included.
Use long and random passwords (at least if you have a Password Manager)
I believe long and random passwords helps to protect my accounts. Like this one: "gErv.azZZZzs@e4*KdzUfrL_nHzDrhK6JGk4WQpDY.8dTE".
The technical article Your Pa$$word doesn't matter, published 07-09-2019 08:58 AM, by Microsoft staff Alex Weinert at a Microsoft Techcommunity site concludes to use only eight characters long passwords. This conclusion bothered me.
But when reading the article more in detail, I understand this is a pragmatic view considering normal human behaviour and considering the methods that accounts are hacked. The article states 2FA as far more important to activate than having longer passwords. But the article also states that long passwords generated by a Password Manager adds an extra level of security. So I still recommend long and random passwords because:
It is something I can do to add protection of my account
Not all registrations allow 2FA
The article is written out from Microsoft products experience and to administrators of them. Database extraction and cracking do indeed occur, as can be seen from all data in Have I Been Pwned
A Password Manager is in any case a good and useful tool
Software (don't click)
I should mention briefly the probably most important advice in keeping the accounts protected. Think twice or more before you click on a link, open a document or something else - sent to you by e-mail, at a web site and so on. Those have a risk to include something that one way or another will harm you. Of course, we must click and open many things, but think first if you believe it is a risk, even if it comes from a person you trust. An anti-virus software can help to protect. Also, as a general rule, keep all your software updated.
Password Manager
I use a Password Manager. You can read how I started to use a Password Manager in the article How I handle Passwords.
Disclaimer: I am not an IT Security expert. I am a daily internet user trying to understand and share knowledge from the best I understand the topic.
Henrik Hemrin
12 November 2020
Uppgifter

Kategori: Knowledge - Kunskap
Write comment (0 Comments)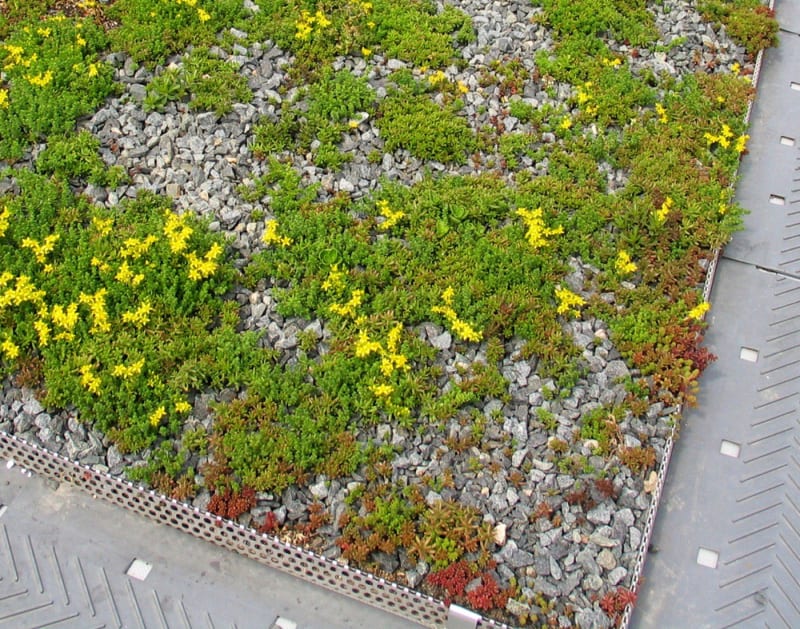 En vän skrev en kommentar på Facebook för några dagar sedan att du får gärna skriva om hur man väljer vinnarna. Ehhh, ja, okej, jag skriver lite om det då...
Det är föstås ett hopplöst ämne för mig att skriva om. Jag själv har genom åren haft både en och flera strategier för att välja. Och inte sällan ingen strategi som jag varit medveten om. Och gått ifrån strategin. Bytt strategin. Och så vidare.
Om jag ska nämna en siffra jag åtminstone ibland tittar på, så är det P/E, alltså kvoten mellan Price och Earning; priset för aktien dividerat med företagets vinst. Går företaget med förlust blir det alltså en negativ siffra. Typiskt rimiliga värden brukar nog anses vara 10-15, och nu i dessa extrema lågräntetider kanske uppåt 20. P/E är en enkel och bra siffra att reflektera över. Men det är absolut inte så att ett lågt P/E är ett klipp, eller ett högt P/E är en dålig affär. Men att jämföra P/E med vad man tror om företaget framöver; hur bra tror jag företaget kommer att gå de närmaste tiden, det kan vara en klok strategi för att hitta vinnare.
Som andra siffra tycker jag det kan vara intressant att titta på aktieutdelningen. Aktieutdelningen är ju lite som en osäker ränta och kan absolut vara en viktig del i hur köpvärd en aktie är på sikt. Apropå utdelningen, så om man har aktierna hos Aktieinvest så kan man välja att det automatiskt återinvesterar utdelningen - smart tycker jag om man inte vill använda utdelningen till något annat. Det kanske finns fler som ger den möjligheten, men Aktieinvest är den jag känner till. Aktieinvest ägdes av Aktiespararna tidigare, men såldes för något år sedan.
Fler siffror, då tänker jag på att Aktiespararna har ett analysprogram som heter Hitta kursvinnare. Jag har bara testat programmet lite för ett flertal år sedan, men gav mig inte tid att förstå det. Kanske jag prövar det igen. Hitta kursvinnare är i alla fall ett hjälpmedel för att tekniskt hitta aktier som är vinnare.
Men allt om aktier är inte vad det borde vara tekniskt för det är så mycket annat som händer, till exempel att det kan komma en pandemi, det kan bli jordbävning, det kan komma ett annat företag med en revolutionerande teknik som gör att mitt företag hamnar på efterkälken.
Aktier i mer teknologiska bolag tycker jag är intressanta men är samtidigt något att vara försiktig med, för saker händer så fort. Företag som till exempel utvecklar mjukvara kan snart få se sig omsprungen. Det första / ett av de första ordbehandlingsprogrammen jag använde professionellt var WordPerfect. Programmet finns fortfarande, ägs numera av Corel. Då var det marknadsdominerande, men idag för de en undanskymd roll och är knappast det som de flesta tänker på när de ska skriva på datorn. Eller ta hård- och mjukvaran mobiltelefoner; både Ericsson och Nokia var ju grymt stora. Ericsson fick problem inte minst att hänga med innovativare Nokia men fortsatte i ett andra steg i ett samarbete med Sony, och släppte sedan helt produktområdet, men tuggar dock på i form av Sony ensamt med vad som verkar vara bra produkter. Nokia hängde inte med när Apple kom, de satsade på Microsoft operativsystem som de var i stort sett ensamma om, och sedan såldes Nokias mobildivision till just Microsoft för en stor summa varpå Microsoft rätt snart såg sig tvungna att lägga ner. Nu finns för all del Nokiatelefoner igen genom att Nokia licensierar ut till ett annat företag på något vis. Eller tänk på den i Sverige stora sociala plattformen Lunarstorm, som liksom bara försvann. Eller klädföretaget på nätet som hette Boo.com, som gick i konkurs efter vad man kan säga att de var lite för tidiga. Samtidigt är det helt klart att inom teknik så finns det verkligen vinnaraktier också.
Tidsaspekten är också något att fundera över när det gäller att hittar vinnare. Tänker jag hitta vinnare för de närmaste sekunderna som robotorna gör? Eller närmaste timmarna, dagarna, veckorna och så vidare? Personligen har jag gått från att fundera så mycket på kurssvängningar, om jag ska sälja-köpa-sälja-köpa till en betydligt långsammare och långsiktigare strategi för kursvinnare där jag har grundstrategin att behålla aktien för alltid. Då blir anledningar att sälja att jag vill använda pengarna, att företaget verkligen inte känns som det jag ska ha framöver av ekonomiska eller annan anledning eller för att aktien möjligen gått så bra att det känns klokt att sälja en del eller allt. Det var också en artikel som hör samman med den här långsamma strategin som frågan för den här artikeln om hur man väljer vinnarna startade: Investmentbolagets vd: "Långsiktiga sparare är vinnare".
Nu tänker jag ta upp tre aktier. Två av dem får nog anses som någon form av vinnaraktier historiskt och den tredje har inte varit det. Historiskt - framåt tror jag alla tre bolagen har en god chans att gå hyggligt och därmed kan ha en hygglig chans att gå bra aktiekursmässigt. Skrivet av mig som verklig amatörbedömare!
Om jag ska föreslå en aktie, så är det Investor. Investor som är ett investmentbolag med hör till Wallenbergssfären. Investmentbolag är alltså ett bolag som investerar i andra bolag och de har inte någon egentlig egen verksamhet. Jag tror aldrig Investor kommer att bli en raket, men jag tror att Investor kommer att fortsätta vara en trygg aktie som knegar på.
Tänk dig att du hade köpte Investor B den 1 januari 1990, alltså för drygt 30 år sedan, till ett belopp av 10 000 kr. Om du låtit detta belopp stå kvar till den 30 oktober 2020, så är de nu värda 114 925 kr! Om du dessutom har gjort återinvestering av lämnade utdelningar och andra värden som avskiljts från aktien, då har du nu Investoraktier den 30 oktober 2020 som är värda 391 375 kr! Inte så tokig vinnare historiskt sett. Dessa siffror har jag fått fram med Investors Aktiekalylator. Investor har P/E 5,20.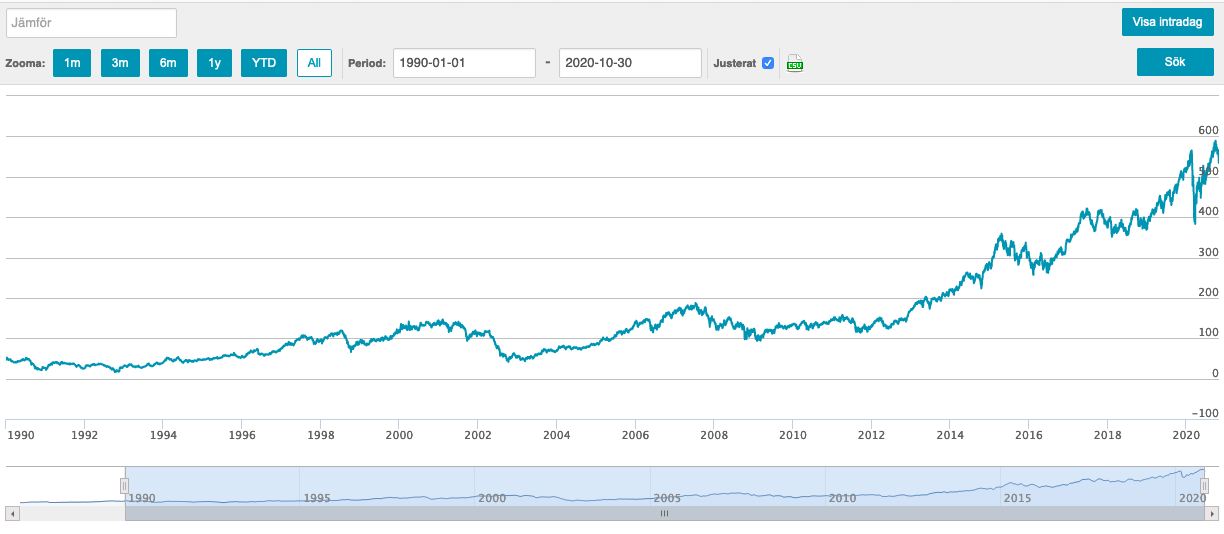 Ett sätt att hitta vinnare kan vara att titta på VD och ledningen för företaget. Vad tror jag om ledningen? Är de kunniga i området? Entreprenör? Köper ledningen själv aktier i bolaget? Med mera.
Det leder mig till andra aktien. Nibe är ett intressant bolag bland annat när jag tänker utifrån ledningen. Nibe jobbar med energilösningsprodukter och har sitt säte i Markaryd, Småland med verksamhet i många länder. De har de senaste årtiondena expanderat kraftigt genom att metodiskt köpa intressanta bolag i sin bransch, och säkert expansion av verksamheten i sig själv, så kallad organisk exapnsion (jag har inte sådär noggrann koll på detaljerna). Gerteric Lindquist är koncernchef och VD. Han började på företaget 1988, och 2019 hade Aktiespararna artikeln om honom 30 år som börs-vd: "Brinner för att skapa". Snacka om att arbeta långsiktigt och långvarigt! Och de har inte stagnerat. Om man nu tror att VD spelar kan fundera på är vad som händer när han slutar som VD. Nibe börsintroducerades 1997 och har idag ett P/E tal på 47,59, ett högt tal alltså. P/E-talet skulle göra mig tveksam till att köpa deras aktie. Samtidigt är de som jag bedömer ett bra företag med även framtiden för sig. Kanske de kan platsa i strategin i att hålla under uppsikt över om de får ett kursfall i dessa oroliga börstider. Eller köpa små poster utspritt. Apropå småposter, så har åtminstone Aktieinvest möjligheten att månadsspara i aktier med automatiska småköp. Nibe skriver på sin hemsida om aktien "Aktiens totalavkastning har sedan 1997 genomsnittligt uppgått till 23% per år." Så här ser Nibes kursutveckling ut: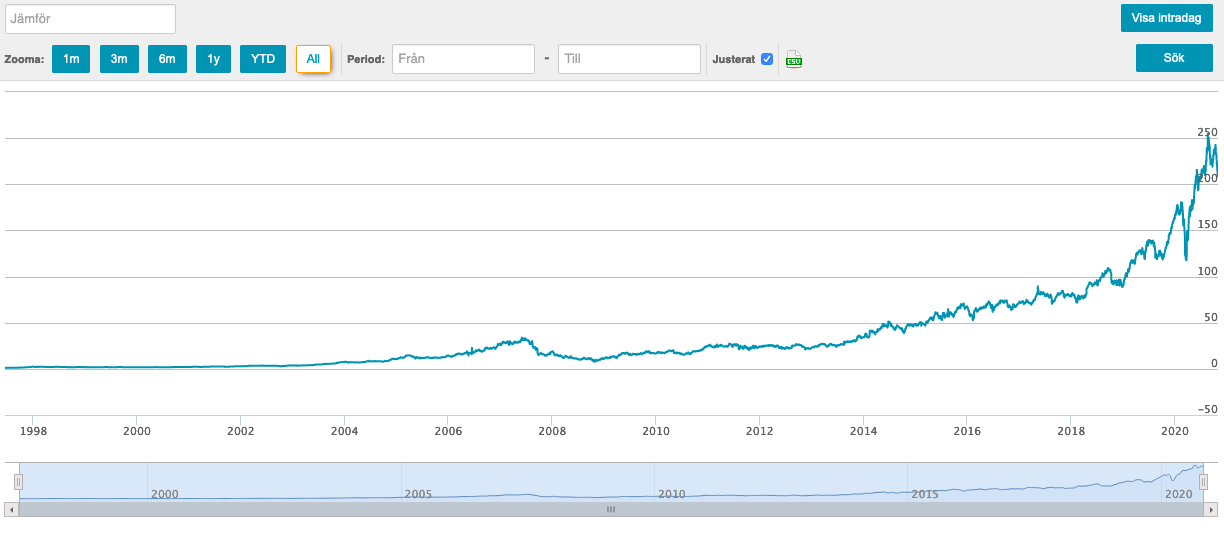 Så kommer vi till tredje aktien. Apropå att titta på ledningen så kommer jag att tänka på ett mycket litet och ungt företag: Urbangreen. De startade 2003 men kan man säga ändrade sin inriktning delvis 2013 och jobbar med gröna taklösningar, inte minst tak av sedum. De odlar sedum i trakten av Vislanda i Alvesta kommun, och har sitt säte i Nacka strand. De gjorde 2019 ett intressant ledningsbyte när Therese Lundstedt rekryterades som VD. Therese har tidigare varit VD för Aktieinvest. Urbangreen var intressant även innan dess, men jag tror också att hon som VD och med Magnus Söderberg som också kommit som ny CFO är lovande för en intressant företagsutveckling framåt som jag tycker kan skönjas i de senaste rapporterna. Urbangreen är alltså ett litet bolag och handlas kvartalsvis på Pepins genom bolaget UG Partners Sweden AB, som i sin tur är delägare i Urbangreen. Köpte man in sig när de 2017 introducerades på marknaden på Pepins, ja då är det en förlustaffär om man säljer nu. Företaget har gått med förlust de senaste åren. Men kanske de blir en vinnare framåt!
Ja, det här var ett långt sätt att inte svara klart och entydigt om hur man väljer vinnarna. Men kanske ger det dig någon tanke att fundera vidare på hur du själv vill tänka och handla i aktier? Det är du själv som bestämmer, har möjligheterna, riskerna och problemen, och har ansvaret fullt ut för hur du agerar med din aktiehandel.
Henrik Hemrin
1 november 2020
Uppgifter

Kategori: Knowledge - Kunskap
Write comment (0 Comments)

28 september – 13 oktober 2020 pågår nyemission i Lohilo Foods inför noteringen på Nasdaq First North Growth Market. Läs officiella informationen här.
Lohilo Foods hette tidigare Alvestaglass. De bytte namn för ett tag sedan när verksamheten breddats och namnet Alvestaglass inte speglar helheten. Glassen som heter Alvestaglass finns kvar som en egentillverkad produktfamilj i företaget. Alvestaglass (och numera Lohilo Foods) har sedan många år för övrigt haft sitt säte och huvudsakliga verksamhet i Växjö, som är grannkommun till Alvesta.
Lohilo (då under namnet Alvestaglass, använder Lohilo nedan oavsett vad bolaget hette vid det aktuella tillfället)) listades på Pepins Market 2016 för att ta in kapital. Pepins fungerar som en slags crowdfunding där även privatpersoner med små investeringar (typ från några tusenlappar) kan vara med och investera i oftast nya, små bolag som vill bredda sin ägarbas och ta in kapital. När man har blivit aktieägare i Lohilo genom Pepins, så har man egentligen köpt aktier i ett separat holdingbolag; Alvestaglass Partners Sweden AB, som i sin tur är en av ägarna till Lohilo. Nu inför introduktionen på Nasdaq First North Growth Market har dessa aktier "omvandlats" till aktier direkt i Lohilo. Dessa aktier kommer alltså att vara en del av de vanliga aktierna som kommer att kunna handlas på Nasdaq First North Growth Market.
När emissionen på Pepins gjordes funderade jag fram och tillbaka på att investera. Men Pepins var nytt, Alvestaglass kände jag heller inte till så mycket, och medan jag funderade så blev det fulltecknat... Ett år senare köpte jag dock några aktier i Lohilo på Pepins Market. Jag har för mig kursen hade fördubblats sedan introduktionen. Dock har den fortsatt att gå upp lite till sedan jag köpte mina aktier.
För några år sedan hade Pepins en träff vid sitt huvudkontor i Nacka där vi som hade aktier i något av deras bolag var inbjudna till en träff med ett antal av dessa bolag. Då småpratade jag en del med Lohilos VD och tillika en av grundarna Richard Hertvig; jag minns att vi pratade om material och design av förpackningen av Alvestaglass. Och deras glassmästare Dan Isaksson, också medgrundare, bjöd mig på Alvestaglass. Sådana träffar och minnen gör känslan för företaget närmare och personligare.
Även om företaget expanderat rejält under dessa år, så vill de nu ta ännu ett skutt genom en ny emission. Man vill både utöka sin marknad och utveckla produkter.
Förutom denna allmänna emission så tar man också in pengar från några investerare: "Inför genomförandet har Erik Selin, Santhe Dahl och Erik Dahl tecknat aktier i en riktad nyemission för cirka 20 miljoner kronor." Erik Selin, fastighetsinvesterare, Balders, Santhe Dahl den tidigare VDn och huvudägaren i träföräldingsföretaget VIDA (med säte i Alvesta), och Erik Dahl är vad jag antar samme Erik som är vice VD på VIDA. Santhe är för övrigt bördig från Hössjö by, samma by som min mormor. Det publika erbjudandet ger cirka 10 miljoner vid fullteckning. Källa: Artikel i Smålandsposten 30 september 2020.
Under de här åren som gått sedan expansionen med hjälp av Pepins, så har Lohilo bland annat ingått ett distributionsavtal med Häagen-Dazs. En annan ny produkt är proteinglass. Och sedan har man också expanderat med andra livsmedel såsom funktionella drycker och proteinbars. För att nämna några saker som hänt.
Det här med nyemission är klurigt. Det är för all del all aktiehandel. Teckningskursen är satt till 22 kr. Den senaste betalkursen på Pepins Market var 18 kr. Handel på Pepins Market är avslutad, nästa handel kommer att vara på Nasdaq First North Growth Market i slutet av oktober. Och nu sedan handeln på Pepins Market är det alltså ovanpå detta en utspädning av aktiekapitalet med fler aktier på 30 miljoner, om jag begriper rätt.
Så är det vettigt att teckna sig? Jag kommer förstås inte ge något klart svar eller rekommendation. Det jag skriver i den här artikeln på min egna hemsida är bara lite blandade personliga tankar som privatperson, skrivet utan något som helst ansvar för vad du som läser möjligen gör eller inte gör efter att ha läst detta.
Lohilo är fortfarande ett litet bolag. Nasdaq First North Growth Market är en handelsplats för tillväxtbolag, där det inte är samma kontroll och krav som över bolag på de stora handelsplatserna. Det här med att bolag expanderar, det är ett kritiskt läge. Man får ställa sig frågan om expansionen som Lohilo tänker göra verkligen kommer att fungera. Jag tänker att glass, det har man gammal kompetens för. Och numera för lite fler produkter. Distributionskompetens ingår också i Lohilos kopetensportfölj idag. Men det är nog ändå en viss expansion med produkter där man idag inte har kompetens som planeras. Så det är inte orimligt att tro att det gäller att man lyckas anställa personer som kan göra de produktutvecklingar som behövs. Kanske maskiner med mera behöver införskaffas som är dyra eller svåra att trimma in. Liksom marknadsfolk som kan hantera marknadsexpansion. Viss nyrekrytering av nyckelkompetenser har nyligen gjorts inför börsintroduktionen, men någon direkt egen koll på vad de kan och det innebär vet jag inte.
Jag tror att när man sätter en introduktionskurs rent generellt, i det här fallet 22 kr, så tror jag att man gärna sätter den lite i det övre spannet av vad man räknar är rimligt att investerare vill betala. Och min känsla är att det inte är ovanligt att kursen sjunker efter introduktion, möjligen efter en snabb höjning först. Dessa saker, om kurssättning och tidigare rörelse har jag inte kollat upp någon statistik på, det är bara min känsla och subjektiva minne. Lyckas satsningarna som Lohilo planerar att göra hyggligt, så tänker jag ändå att på ett antal års sikt så är det inte orimligt att kursen är högre än 22 kr. Kanske kan man köpa billigare om ett litet tag. Samtidigt är en nyemission, börsintroduktion, rolig att vara med i från början. Lite som en galapremiär är speciell, även om det är samma föreställning på efterföljande föreställningar (inte för att jag går på galapremiärer, men jag gissar det känns så).
För egen del är Lohilo intressant utifrån strategin jag skrev om i Aktier att äga i min hood. Även om Lohilo inte ligger på gångavstånd från uppväxthemmet, så går det att cykla dit. Och lite längre har det blivit sedan de flyttade ut till Öjaby i närheten av flygplatsen. Apropå att äga aktier i min hood, så väntar jag för övrigt ännu på att det ska dyka upp något i Norsborgstrakten! Det här med att små bolag verkligen kan bli en brakförlust, det skrev jag om i Historien om aktien som blev till grus. Den artikeln handlade om företaget Barista som tog in kapital via Pepins, men senare konkursade. Ett annat företag som tog in pengar via Pepins var Växjöbaserade Kronfönster: De var innan introduktionen ett företag som gick runt, etablerat, men expanderade med fler fönsterprodukter, ny fabrik med mera, och allt detta blev mer krävande än de kalkylerat och konkurs blev resultatet (Kronfönster finns ännu, men omstartat med ny ägare som köpte delar av konkursboet).
Ska man köpa aktier nu i denna nyemission måste man köpa för minst 5500 kr. Jag har som sagt en liten post sedan tidigare, och den har jag ingen annan strategi för än att behålla. Jag har inte bestämt mig om jag ska satsa mer av mina besparingar i Lohilo nu vid nyintroduktionen eller ej.
Första handelsdagen
Inte bara jag, utan också Affärsvärlden skrev en artikel inför nyemissionen, 9 oktober 2020: En glassig notering. Affärsvärlden landade i köprekommendation, men hade vissa reservationer.
Nyemissionen blev kraftigt övertecknad, meddelade Lohilo i sitt pressmeddelande den 15 oktober 2020: LOHILO Foods nyemission inför notering kraftigt övertecknad.
Så, idag den 26 oktober 2020 var det den första handelsdagen på Nasdaq First North Growth Market, efter nyemissionen och den samtida flytten från Pepins handelsplats. Så hur gick då första dagen? Jo, de som ägde aktier inför noteringen, de har fått se en kraftig uppgång första dagen. Kursen slutade på 27,145 kr, att jämföra med teckningskursen 22 kr.

Efter fyra veckors handel
Nu har det gått fyra veckor sedan Lohilo Foods börsintroducerades på Nasdaq First North Growth Market. Den första dagen gick bra; då steg aktien från introduktionskursen på 22 kr till över 27 kr. Och innan introduktionen var sista handelskursen 18 kr på Pepins Market.
Första handelsdagen var som jag minns det i en turburelent nedåtgående period på stora Stockholmsbörsen på grund av pandemiosäkerhet. Och trots det så gick Lohilo bra.
Nu har då de fyra första kursveckorna avslutats. Och, även med vissa nedåtrörelser så har Lohilo verkligen gått uppåt under dessa veckor. Inte minst de senaste dagarna. Kursen är nu uppe på 36,70! Stockholmsbörsen har under samma period gått bra.
Jag måste säga att jag är förvånad att aktien gått såpass bra. Visst kunde jag tänka mig att den skulle stiga, men knappast så mycket. Å andra sidan har också hela Stockholmsbörsen stigit mycket nu trots bistra pandemitider; jag skulle inte gissat att den heller skulle gå så bra nu och inte minst efter stora nergången tidigare i höst.
När jag tittar vad som hänt, så har Lohilo i pressrelease meddelat om en ny marknadschef och idag om en ny försäljningschef. Det har så långt jag ser inte kommit någon ny finansiell rapport. Jag vet inte om de nya namnen säger något till de kunniga. Dock kan man säga att nyemissionen inför börsintroduktionen bland annat skulle användas för marknadsföring, så dessa nyrekryteringar visar att företaget har satt igång med det man sagt man ska göra.
Jag har funderat mer på företaget, produkter och målgrupp. Lohilo Foods började med Alvestaglass. Traditionell glass på burk med ett fokus på kvalitet. Den verksamheten har tuggat på och gått framåt. Här torde målgruppen vara vanliga människor som handlar sin mat i vanliga mataffärer. De har också köpt upp fler glassmärken liksom distributionsavtalet med Häagen-Dazs som tycks framgångsrikt. För en tid sedan började de utveckla proteinglass, som kanske har en något annan målgrupp. Sedan har funktionsdryck, proteinbars, tuggummi och chips tillkommit. De talar om functional foods. Och proteinglassen kanske var första steget mot den nya målgruppen som jag förstår som träningsaktiva yngre personer med ett fokus på de kvinnliga. På något vis tycker jag deras traditionella glass och deras nya produkter har lite olika målgrupper. Och andra sidan kan det vara bra att ha mer än ett ben att stå på. Traditionell glass är förmodligen en bra bas att stå på - glass kommer att bestå och har man en glass som många köper så har man en trygg grund. Jag minns också att de sagt att burkglass, som Alvestaglass är, inte är så väderkänsligt som pinnglass. Expansionen utomlands har börjat, återstår att se om det går så bra som de hoppas.
Förmodligen kommer resultaträkningen vara sådär ett tag framöver eftersom de är i en marknadsförings- och expansionsfas. Jag vågar inte gissa hur aktien kommer att gå framöver.
Henrik Hemrin
4 oktober 2020
Uppdaterad 26 oktober 2020 med kapitlet Första handelsdagen
Uppdaterad 20 november med kapitlet Efter fyra veckors handel
Uppgifter

Kategori: Knowledge - Kunskap
Write comment (3 Comments)
Introduction
Linux Mint 20 has been out for a few months now, released late June 2020.
Now I have installed in myself, going from 19.3 to 20. I have installed both the Xfce and the Cinnamon versions, but not on same laptop. The procedures for Xfce and Cinnamon are identical. But I write down notes for each machine below.
I still have an issue with scanner. But despite that I am amazed how fast and easy it is to install Linux Mint.
If you never have done an installation of any operating system and in particular any Linux operating system on your laptop or desktop, you should read some more about it, or talk to someone who knows. I am a beginner of Linux, but have done installation a couple of times before.
Maybe my notes and comments inspires you to try Linux Mint, or any Linux distribution.
Maybe my notes helps you if you run into trouble. If you get problems, don't forget Linux Mint has an active international user forum, and in some countries local user forums as well, like the Swedish user forum.
Methods to update if you have an earlier version of Linux Mint
Upgrade of Linux Mint from 19 to point releases 19.1, to 19.2 and the final 19-release 19.3 were all very smooth. It was handled by the Update manager. But going from 19.3 to 20 is more complicated. Linux Mint has an instruction and developed an Upgrade tool and I considered to use that. The other option is to make a new installation, one way or another. I asked the podcast MintCast about their thoughts, and via them also Big Daddy Linux talked about the alternatives in one of their pod episodes (the European edition).
I decided not to use the Update tool. More details below for each machine. What is best for you, you have to decide.
Remember to have a fresh backup of all your files. And notes about all softwares you need, maybe configurations and more, to make the start easier.
Linux Mint 20 Xfce Ulyana on Lenovo IdeaPad 100s-14IBR
On this cheap laptop, I only have Linux Mint 19.3 Xfce installed; no other OS. Originally it was a Microsoft Windows 10 machine. You can find my journey from Windows to Linux on several blog posts on this site, starting with Short life time for my cheap laptop. I decided to make a fresh installation; wipe the drive - do what people call "nuke and pave" (nuke n pave).
Before you start the nuke and pave installation, remember everything will be gone from the drive, so note all software you have installed, important configurations and of course back up all your files you have on this disk (which you must do also if you use the Upgrade tool).
I downloaded the new release via Linux Mint web site. I verified the file (info is available on their website) and flashed the USB stick.
Then basically I did as follows:
Enter Boot menu at 12:05, 12 Sep 2020
Select the USB stick
Start Mint 20 Xfce as Live; running from the USB
I started WiFi (password can be tricky due to not yet configured correct keyboard - there is an option to make the password visible, which is useful)
Start the "Install Linux Mint" button on the desktop
Select Language (for me that is Svenska, Swedish)
Select keyboard
Select Install multi media add-ons
Select Erase the drive and Install Mint.

Advanced option: Selected Encrypt the new Linux Mint installation. Observe I made mistake, read about it below.
Strangely the installation did not detect any OS. Now I'm guessing, if that could be because the disc is encrypted?

Select Time zone
Input Who am I, password etc.

I did not mark Encrypt home folder (it should be covered by encryption above. But not clear in the installation how I should do, it would be an improvement if help text in the installation gave some guidance about encryption of home folder if you have opted for encryption of the full disc).

Next step installation starts (12:18). In meantime, screens telling about the Linux Mint; included software and more.
Installation ready (12:31); and I restart the laptop now.

Remove installation medium and Enter.
Linux Mint 20 Xfce 64-bit starts and I logon 12:34! It is remarkable how fast it is to install a Linux operating system. After login to Linux Mint 20:
Welcome screen starts and I do the first housekeeping tasks now and wait with other:

Go to the Update manager and proceed with updates.
Check Drivers
Turn on Firewall
However the encryption appear not to be in place - what did I do wrong? I start the Live USB again and find I should have marked Both Use LVM and Encrypt. Therefore the encryption of the hard disk did not work. It was my mistake. But I think they could have made it more clear on the screen. And also that both those options are hidden under an Advanced button can make you miss this option. In my first installation I did not notice that I must first mark:
Use LVM with your new Linux Mint installation and then mark
Encrypt your new Linux Mint installation for extra security, you decide security key in next step
LVM stands for Local Volume Manager. I have started to read and learn what it means, pros and cons, but do not know enough to comment further today.
So I run the installation process again, same procedure as first time above but the additional tick box marked. Now it worked well with the encryption too.
Printer and scanner
After early troubles, it works now. My journey in summary:
I have earlier written about printers and scanners with Linux, in particular from HP in my case. See the article New life for scanner and printer with Linux. In Linux Mint 20 is HPLIP of later release included. Although not the HPLIP GUI. But that is available in the software repository. I installed the GUI, and the additional add-on. I have uninstalled, reinstalled, tried some other things I have read about. But I have not managed yet to get my HP LaserJet M1120MFP work as a scanner (printer works). It is supported and detected, but does not start. For time being, I rest my case and maybe there will come a Mint (or Ubuntu) update, or HPLIP update, that address this issue. As I understand I am not the only one with problem. The other printer, HP LaserJet 1018, have I not tested.
Update 2 October 2020: Linux Mint Monthly Newsletter, September 2020 issue under the heading USB Printer, describes issues for users of Linux Mint 20 that was working in 19.3. They suggest to remove the package "ippusbxd". I tried this, and magic the scanner was working! Printers as well. Then I installed the "ippusbxd" again, with the outcome that scanner still works...! Considering the installation on the other laptop below, my conclusion is that an update of something after the installation, has solved the issue for me.
Linux Mint 20 Cinnamon Ulyana on Lenovo ThinkPad T430s
My second machine with Linux Mint 19.3 on is this ThinkPad. This laptop I use mostly for learning Linux. I have multiple operating systems on it. The latest installation was Linux Mint 19.3 very shortly before 20 was out. Read more in my article Exploring Linux OS: Linux Mint, part #1. So on this laptop I had to act differently than on the IdeaPad above.
But again I decided for a fresh installation, not using the Upgrade tool. First I thought I should install it directly over the 19.3 installation. But then I reconsidered that I would not unlikely get issues with the Grub, so why get into potential troubles if I can avoid them. As I had enough space on the drive, I instead decided to keep 19.3 but shrink it, and install 20 on the remaining part. I may very well delete 19.3 later.
I had already downloaded the new release via Linux Mint web site. I checked the file (info is available on their website) and flashed the USB stick. Then I basically acted as follows:
F12 Entering Boot menu 12 Sep 2020 at 18:05
Select the USB stick => Start Linux Mint (live)
Connecting to WiFi (password can be tricky due to not yet configured correct keyboard - there is an option to make the password visible, which is useful)
Starting Boot Repair tool (it is a tool on the Live version. Not that I needed it, this was only to explore it))
Click on the Icon on Desktop "Install Linux Mint" at 18:08
Install language (for me I changed to svenska, Swedish)
Select Keyboard layout
Select Install multi media add-ons
Select Install Linux Mint along with existing Operating systems.
Next Allocate space for Linux Mint 20 by decreasing Linux Mint 19.3 Tricia. This means I keep 19.3. One reason is not to damage Grub during installation. Instead I will probably delete 19.3 another time. I allocated 19.6 GB for Mint 19.3 and 46.1 GB for Mint 20.

No option to encrypt the full drive, because of multiple OS.
Install now.

Select Time zone
Insert User name etc. I decided for no encryption of home folder.
Installation starts at 18:16.
Installation ready at 18:23, restarted at 18:24.
GRUB menu is updated, but only as small text rows.
After login to the new installation of Linux Mint 20:
Check Drivers
Turn on Firewall
Update manager - do all updates
Install "Grub2-theme-mint". Grub looks better now (after another restart)! It looks like before. I do not know why the theme was not included in the installation this time - when I installed 19.3 it was there out of the box. There is also a "grub2-theme-mint-2k". I read in the known issues about that the Grub menu can be very small, that is where I found how to update the Grub menu theme. Both themes are available to download and install from the software repository
Checking that all other OS still works (starts): Microsoft Windows 10 Pro, elementary 5, Ubuntu Studio 20, Debian 10 and Linux Mint 19.3.
Printers and scanners
In short, they work. But not in the early days of the release, but now later after some ordinary system updates.
I have only checked that my HP scanner is not working, But I have not tried to solve it yet on this machine, see above how I have started to analyze it on my IdeaPad. When I solve on one of the machines, I do it on next machine. In the meantime I have other options when I need to scan.
Update 2 October 2020: When I try today, scanner as well as both printers works! My best guess is that an update of something after the installation has solved the issue. Otherwise, the Linux Mint montly newsletter, September 2020 issue under heading USB Printer Support describes troubles occuring in Mint 20 that worked in Miny 19.3, and suggest that removal of package "ippusbxd" can make it working again.
Henrik Hemrin
16 September 2020
3 October 2020 (additional info about fix for printers and scanners)
Uppgifter

Kategori: Knowledge - Kunskap
Write comment (2 Comments)