28 september – 13 oktober 2020 pågår nyemission i Lohilo Foods inför noteringen på Nasdaq First North Growth Market. Läs officiella informationen här.
Lohilo Foods hette tidigare Alvestaglass. De bytte namn för ett tag sedan när verksamheten breddats och namnet Alvestaglass inte speglar helheten. Glassen som heter Alvestaglass finns kvar som en egentillverkad produktfamilj i företaget. Alvestaglass (och numera Lohilo Foods) har sedan många år för övrigt haft sitt säte och huvudsakliga verksamhet i Växjö, som är grannkommun till Alvesta.
Lohilo (då under namnet Alvestaglass, använder Lohilo nedan oavsett vad bolaget hette vid det aktuella tillfället)) listades på Pepins Market 2016 för att ta in kapital. Pepins fungerar som en slags crowdfunding där även privatpersoner med små investeringar (typ från några tusenlappar) kan vara med och investera i oftast nya, små bolag som vill bredda sin ägarbas och ta in kapital. När man har blivit aktieägare i Lohilo genom Pepins, så har man egentligen köpt aktier i ett separat holdingbolag; Alvestaglass Partners Sweden AB, som i sin tur är en av ägarna till Lohilo. Nu inför introduktionen på Nasdaq First North Growth Market har dessa aktier "omvandlats" till aktier direkt i Lohilo. Dessa aktier kommer alltså att vara en del av de vanliga aktierna som kommer att kunna handlas på Nasdaq First North Growth Market.
När emissionen på Pepins gjordes funderade jag fram och tillbaka på att investera. Men Pepins var nytt, Alvestaglass kände jag heller inte till så mycket, och medan jag funderade så blev det fulltecknat... Ett år senare köpte jag dock några aktier i Lohilo på Pepins Market. Jag har för mig kursen hade fördubblats sedan introduktionen. Dock har den fortsatt att gå upp lite till sedan jag köpte mina aktier.
För några år sedan hade Pepins en träff vid sitt huvudkontor i Nacka där vi som hade aktier i något av deras bolag var inbjudna till en träff med ett antal av dessa bolag. Då småpratade jag en del med Lohilos VD och tillika en av grundarna Richard Hertvig; jag minns att vi pratade om material och design av förpackningen av Alvestaglass. Och deras glassmästare Dan Isaksson, också medgrundare, bjöd mig på Alvestaglass. Sådana träffar och minnen gör känslan för företaget närmare och personligare.
Även om företaget expanderat rejält under dessa år, så vill de nu ta ännu ett skutt genom en ny emission. Man vill både utöka sin marknad och utveckla produkter.
Förutom denna allmänna emission så tar man också in pengar från några investerare: "Inför genomförandet har Erik Selin, Santhe Dahl och Erik Dahl tecknat aktier i en riktad nyemission för cirka 20 miljoner kronor." Erik Selin, fastighetsinvesterare, Balders, Santhe Dahl den tidigare VDn och huvudägaren i träföräldingsföretaget VIDA (med säte i Alvesta), och Erik Dahl är vad jag antar samme Erik som är vice VD på VIDA. Santhe är för övrigt bördig från Hössjö by, samma by som min mormor. Det publika erbjudandet ger cirka 10 miljoner vid fullteckning. Källa: Artikel i Smålandsposten 30 september 2020.
Under de här åren som gått sedan expansionen med hjälp av Pepins, så har Lohilo bland annat ingått ett distributionsavtal med Häagen-Dazs. En annan ny produkt är proteinglass. Och sedan har man också expanderat med andra livsmedel såsom funktionella drycker och proteinbars. För att nämna några saker som hänt.
Det här med nyemission är klurigt. Det är för all del all aktiehandel. Teckningskursen är satt till 22 kr. Den senaste betalkursen på Pepins Market var 18 kr. Handel på Pepins Market är avslutad, nästa handel kommer att vara på Nasdaq First North Growth Market i slutet av oktober. Och nu sedan handeln på Pepins Market är det alltså ovanpå detta en utspädning av aktiekapitalet med fler aktier på 30 miljoner, om jag begriper rätt.
Så är det vettigt att teckna sig? Jag kommer förstås inte ge något klart svar eller rekommendation. Det jag skriver i den här artikeln på min egna hemsida är bara lite blandade personliga tankar som privatperson, skrivet utan något som helst ansvar för vad du som läser möjligen gör eller inte gör efter att ha läst detta.
Lohilo är fortfarande ett litet bolag. Nasdaq First North Growth Market är en handelsplats för tillväxtbolag, där det inte är samma kontroll och krav som över bolag på de stora handelsplatserna. Det här med att bolag expanderar, det är ett kritiskt läge. Man får ställa sig frågan om expansionen som Lohilo tänker göra verkligen kommer att fungera. Jag tänker att glass, det har man gammal kompetens för. Och numera för lite fler produkter. Distributionskompetens ingår också i Lohilos kopetensportfölj idag. Men det är nog ändå en viss expansion med produkter där man idag inte har kompetens som planeras. Så det är inte orimligt att tro att det gäller att man lyckas anställa personer som kan göra de produktutvecklingar som behövs. Kanske maskiner med mera behöver införskaffas som är dyra eller svåra att trimma in. Liksom marknadsfolk som kan hantera marknadsexpansion. Viss nyrekrytering av nyckelkompetenser har nyligen gjorts inför börsintroduktionen, men någon direkt egen koll på vad de kan och det innebär vet jag inte.
Jag tror att när man sätter en introduktionskurs rent generellt, i det här fallet 22 kr, så tror jag att man gärna sätter den lite i det övre spannet av vad man räknar är rimligt att investerare vill betala. Och min känsla är att det inte är ovanligt att kursen sjunker efter introduktion, möjligen efter en snabb höjning först. Dessa saker, om kurssättning och tidigare rörelse har jag inte kollat upp någon statistik på, det är bara min känsla och subjektiva minne. Lyckas satsningarna som Lohilo planerar att göra hyggligt, så tänker jag ändå att på ett antal års sikt så är det inte orimligt att kursen är högre än 22 kr. Kanske kan man köpa billigare om ett litet tag. Samtidigt är en nyemission, börsintroduktion, rolig att vara med i från början. Lite som en galapremiär är speciell, även om det är samma föreställning på efterföljande föreställningar (inte för att jag går på galapremiärer, men jag gissar det känns så).
För egen del är Lohilo intressant utifrån strategin jag skrev om i Aktier att äga i min hood. Även om Lohilo inte ligger på gångavstånd från uppväxthemmet, så går det att cykla dit. Och lite längre har det blivit sedan de flyttade ut till Öjaby i närheten av flygplatsen. Apropå att äga aktier i min hood, så väntar jag för övrigt ännu på att det ska dyka upp något i Norsborgstrakten! Det här med att små bolag verkligen kan bli en brakförlust, det skrev jag om i Historien om aktien som blev till grus. Den artikeln handlade om företaget Barista som tog in kapital via Pepins, men senare konkursade. Ett annat företag som tog in pengar via Pepins var Växjöbaserade Kronfönster: De var innan introduktionen ett företag som gick runt, etablerat, men expanderade med fler fönsterprodukter, ny fabrik med mera, och allt detta blev mer krävande än de kalkylerat och konkurs blev resultatet (Kronfönster finns ännu, men omstartat med ny ägare som köpte delar av konkursboet).
Ska man köpa aktier nu i denna nyemission måste man köpa för minst 5500 kr. Jag har som sagt en liten post sedan tidigare, och den har jag ingen annan strategi för än att behålla. Jag har inte bestämt mig om jag ska satsa mer av mina besparingar i Lohilo nu vid nyintroduktionen eller ej.
Första handelsdagen
Inte bara jag, utan också Affärsvärlden skrev en artikel inför nyemissionen, 9 oktober 2020: En glassig notering. Affärsvärlden landade i köprekommendation, men hade vissa reservationer.
Nyemissionen blev kraftigt övertecknad, meddelade Lohilo i sitt pressmeddelande den 15 oktober 2020: LOHILO Foods nyemission inför notering kraftigt övertecknad.
Så, idag den 26 oktober 2020 var det den första handelsdagen på Nasdaq First North Growth Market, efter nyemissionen och den samtida flytten från Pepins handelsplats. Så hur gick då första dagen? Jo, de som ägde aktier inför noteringen, de har fått se en kraftig uppgång första dagen. Kursen slutade på 27,145 kr, att jämföra med teckningskursen 22 kr.

Efter fyra veckors handel
Nu har det gått fyra veckor sedan Lohilo Foods börsintroducerades på Nasdaq First North Growth Market. Den första dagen gick bra; då steg aktien från introduktionskursen på 22 kr till över 27 kr. Och innan introduktionen var sista handelskursen 18 kr på Pepins Market.
Första handelsdagen var som jag minns det i en turburelent nedåtgående period på stora Stockholmsbörsen på grund av pandemiosäkerhet. Och trots det så gick Lohilo bra.
Nu har då de fyra första kursveckorna avslutats. Och, även med vissa nedåtrörelser så har Lohilo verkligen gått uppåt under dessa veckor. Inte minst de senaste dagarna. Kursen är nu uppe på 36,70! Stockholmsbörsen har under samma period gått bra.
Jag måste säga att jag är förvånad att aktien gått såpass bra. Visst kunde jag tänka mig att den skulle stiga, men knappast så mycket. Å andra sidan har också hela Stockholmsbörsen stigit mycket nu trots bistra pandemitider; jag skulle inte gissat att den heller skulle gå så bra nu och inte minst efter stora nergången tidigare i höst.
När jag tittar vad som hänt, så har Lohilo i pressrelease meddelat om en ny marknadschef och idag om en ny försäljningschef. Det har så långt jag ser inte kommit någon ny finansiell rapport. Jag vet inte om de nya namnen säger något till de kunniga. Dock kan man säga att nyemissionen inför börsintroduktionen bland annat skulle användas för marknadsföring, så dessa nyrekryteringar visar att företaget har satt igång med det man sagt man ska göra.
Jag har funderat mer på företaget, produkter och målgrupp. Lohilo Foods började med Alvestaglass. Traditionell glass på burk med ett fokus på kvalitet. Den verksamheten har tuggat på och gått framåt. Här torde målgruppen vara vanliga människor som handlar sin mat i vanliga mataffärer. De har också köpt upp fler glassmärken liksom distributionsavtalet med Häagen-Dazs som tycks framgångsrikt. För en tid sedan började de utveckla proteinglass, som kanske har en något annan målgrupp. Sedan har funktionsdryck, proteinbars, tuggummi och chips tillkommit. De talar om functional foods. Och proteinglassen kanske var första steget mot den nya målgruppen som jag förstår som träningsaktiva yngre personer med ett fokus på de kvinnliga. På något vis tycker jag deras traditionella glass och deras nya produkter har lite olika målgrupper. Och andra sidan kan det vara bra att ha mer än ett ben att stå på. Traditionell glass är förmodligen en bra bas att stå på - glass kommer att bestå och har man en glass som många köper så har man en trygg grund. Jag minns också att de sagt att burkglass, som Alvestaglass är, inte är så väderkänsligt som pinnglass. Expansionen utomlands har börjat, återstår att se om det går så bra som de hoppas.
Förmodligen kommer resultaträkningen vara sådär ett tag framöver eftersom de är i en marknadsförings- och expansionsfas. Jag vågar inte gissa hur aktien kommer att gå framöver.
Henrik Hemrin
4 oktober 2020
Uppdaterad 26 oktober 2020 med kapitlet Första handelsdagen
Uppdaterad 20 november med kapitlet Efter fyra veckors handel
Uppgifter

Kategori: Knowledge - Kunskap
Write comment (3 Comments)
Introduction
Linux Mint 20 has been out for a few months now, released late June 2020.
Now I have installed in myself, going from 19.3 to 20. I have installed both the Xfce and the Cinnamon versions, but not on same laptop. The procedures for Xfce and Cinnamon are identical. But I write down notes for each machine below.
I still have an issue with scanner. But despite that I am amazed how fast and easy it is to install Linux Mint.
If you never have done an installation of any operating system and in particular any Linux operating system on your laptop or desktop, you should read some more about it, or talk to someone who knows. I am a beginner of Linux, but have done installation a couple of times before.
Maybe my notes and comments inspires you to try Linux Mint, or any Linux distribution.
Maybe my notes helps you if you run into trouble. If you get problems, don't forget Linux Mint has an active international user forum, and in some countries local user forums as well, like the Swedish user forum.
Methods to update if you have an earlier version of Linux Mint
Upgrade of Linux Mint from 19 to point releases 19.1, to 19.2 and the final 19-release 19.3 were all very smooth. It was handled by the Update manager. But going from 19.3 to 20 is more complicated. Linux Mint has an instruction and developed an Upgrade tool and I considered to use that. The other option is to make a new installation, one way or another. I asked the podcast MintCast about their thoughts, and via them also Big Daddy Linux talked about the alternatives in one of their pod episodes (the European edition).
I decided not to use the Update tool. More details below for each machine. What is best for you, you have to decide.
Remember to have a fresh backup of all your files. And notes about all softwares you need, maybe configurations and more, to make the start easier.
Linux Mint 20 Xfce Ulyana on Lenovo IdeaPad 100s-14IBR
On this cheap laptop, I only have Linux Mint 19.3 Xfce installed; no other OS. Originally it was a Microsoft Windows 10 machine. You can find my journey from Windows to Linux on several blog posts on this site, starting with Short life time for my cheap laptop. I decided to make a fresh installation; wipe the drive - do what people call "nuke and pave" (nuke n pave).
Before you start the nuke and pave installation, remember everything will be gone from the drive, so note all software you have installed, important configurations and of course back up all your files you have on this disk (which you must do also if you use the Upgrade tool).
I downloaded the new release via Linux Mint web site. I verified the file (info is available on their website) and flashed the USB stick.
Then basically I did as follows:
Enter Boot menu at 12:05, 12 Sep 2020
Select the USB stick
Start Mint 20 Xfce as Live; running from the USB
I started WiFi (password can be tricky due to not yet configured correct keyboard - there is an option to make the password visible, which is useful)
Start the "Install Linux Mint" button on the desktop
Select Language (for me that is Svenska, Swedish)
Select keyboard
Select Install multi media add-ons
Select Erase the drive and Install Mint.

Advanced option: Selected Encrypt the new Linux Mint installation. Observe I made mistake, read about it below.
Strangely the installation did not detect any OS. Now I'm guessing, if that could be because the disc is encrypted?

Select Time zone
Input Who am I, password etc.

I did not mark Encrypt home folder (it should be covered by encryption above. But not clear in the installation how I should do, it would be an improvement if help text in the installation gave some guidance about encryption of home folder if you have opted for encryption of the full disc).

Next step installation starts (12:18). In meantime, screens telling about the Linux Mint; included software and more.
Installation ready (12:31); and I restart the laptop now.

Remove installation medium and Enter.
Linux Mint 20 Xfce 64-bit starts and I logon 12:34! It is remarkable how fast it is to install a Linux operating system. After login to Linux Mint 20:
Welcome screen starts and I do the first housekeeping tasks now and wait with other:

Go to the Update manager and proceed with updates.
Check Drivers
Turn on Firewall
However the encryption appear not to be in place - what did I do wrong? I start the Live USB again and find I should have marked Both Use LVM and Encrypt. Therefore the encryption of the hard disk did not work. It was my mistake. But I think they could have made it more clear on the screen. And also that both those options are hidden under an Advanced button can make you miss this option. In my first installation I did not notice that I must first mark:
Use LVM with your new Linux Mint installation and then mark
Encrypt your new Linux Mint installation for extra security, you decide security key in next step
LVM stands for Local Volume Manager. I have started to read and learn what it means, pros and cons, but do not know enough to comment further today.
So I run the installation process again, same procedure as first time above but the additional tick box marked. Now it worked well with the encryption too.
Printer and scanner
After early troubles, it works now. My journey in summary:
I have earlier written about printers and scanners with Linux, in particular from HP in my case. See the article New life for scanner and printer with Linux. In Linux Mint 20 is HPLIP of later release included. Although not the HPLIP GUI. But that is available in the software repository. I installed the GUI, and the additional add-on. I have uninstalled, reinstalled, tried some other things I have read about. But I have not managed yet to get my HP LaserJet M1120MFP work as a scanner (printer works). It is supported and detected, but does not start. For time being, I rest my case and maybe there will come a Mint (or Ubuntu) update, or HPLIP update, that address this issue. As I understand I am not the only one with problem. The other printer, HP LaserJet 1018, have I not tested.
Update 2 October 2020: Linux Mint Monthly Newsletter, September 2020 issue under the heading USB Printer, describes issues for users of Linux Mint 20 that was working in 19.3. They suggest to remove the package "ippusbxd". I tried this, and magic the scanner was working! Printers as well. Then I installed the "ippusbxd" again, with the outcome that scanner still works...! Considering the installation on the other laptop below, my conclusion is that an update of something after the installation, has solved the issue for me.
Linux Mint 20 Cinnamon Ulyana on Lenovo ThinkPad T430s
My second machine with Linux Mint 19.3 on is this ThinkPad. This laptop I use mostly for learning Linux. I have multiple operating systems on it. The latest installation was Linux Mint 19.3 very shortly before 20 was out. Read more in my article Exploring Linux OS: Linux Mint, part #1. So on this laptop I had to act differently than on the IdeaPad above.
But again I decided for a fresh installation, not using the Upgrade tool. First I thought I should install it directly over the 19.3 installation. But then I reconsidered that I would not unlikely get issues with the Grub, so why get into potential troubles if I can avoid them. As I had enough space on the drive, I instead decided to keep 19.3 but shrink it, and install 20 on the remaining part. I may very well delete 19.3 later.
I had already downloaded the new release via Linux Mint web site. I checked the file (info is available on their website) and flashed the USB stick. Then I basically acted as follows:
F12 Entering Boot menu 12 Sep 2020 at 18:05
Select the USB stick => Start Linux Mint (live)
Connecting to WiFi (password can be tricky due to not yet configured correct keyboard - there is an option to make the password visible, which is useful)
Starting Boot Repair tool (it is a tool on the Live version. Not that I needed it, this was only to explore it))
Click on the Icon on Desktop "Install Linux Mint" at 18:08
Install language (for me I changed to svenska, Swedish)
Select Keyboard layout
Select Install multi media add-ons
Select Install Linux Mint along with existing Operating systems.
Next Allocate space for Linux Mint 20 by decreasing Linux Mint 19.3 Tricia. This means I keep 19.3. One reason is not to damage Grub during installation. Instead I will probably delete 19.3 another time. I allocated 19.6 GB for Mint 19.3 and 46.1 GB for Mint 20.

No option to encrypt the full drive, because of multiple OS.
Install now.

Select Time zone
Insert User name etc. I decided for no encryption of home folder.
Installation starts at 18:16.
Installation ready at 18:23, restarted at 18:24.
GRUB menu is updated, but only as small text rows.
After login to the new installation of Linux Mint 20:
Check Drivers
Turn on Firewall
Update manager - do all updates
Install "Grub2-theme-mint". Grub looks better now (after another restart)! It looks like before. I do not know why the theme was not included in the installation this time - when I installed 19.3 it was there out of the box. There is also a "grub2-theme-mint-2k". I read in the known issues about that the Grub menu can be very small, that is where I found how to update the Grub menu theme. Both themes are available to download and install from the software repository
Checking that all other OS still works (starts): Microsoft Windows 10 Pro, elementary 5, Ubuntu Studio 20, Debian 10 and Linux Mint 19.3.
Printers and scanners
In short, they work. But not in the early days of the release, but now later after some ordinary system updates.
I have only checked that my HP scanner is not working, But I have not tried to solve it yet on this machine, see above how I have started to analyze it on my IdeaPad. When I solve on one of the machines, I do it on next machine. In the meantime I have other options when I need to scan.
Update 2 October 2020: When I try today, scanner as well as both printers works! My best guess is that an update of something after the installation has solved the issue. Otherwise, the Linux Mint montly newsletter, September 2020 issue under heading USB Printer Support describes troubles occuring in Mint 20 that worked in Miny 19.3, and suggest that removal of package "ippusbxd" can make it working again.
Henrik Hemrin
16 September 2020
3 October 2020 (additional info about fix for printers and scanners)
Uppgifter

Kategori: Knowledge - Kunskap
Write comment (0 Comments)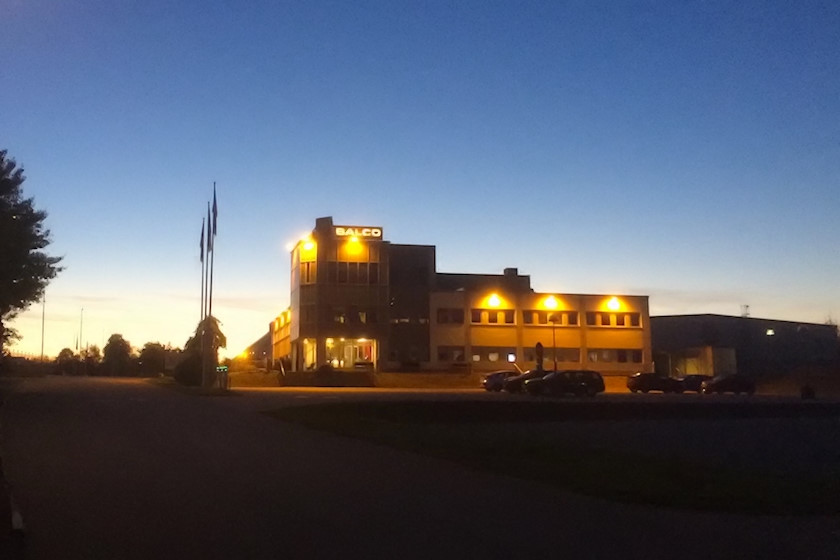 Vad finns det för aktiebolag i min hood, i mitt närområde?
Att vara aktieägare innebär att jag lånar ut av mina pengar till företaget. Det är klart, oftast köper jag aktien av någon annan, så företaget har egentligen redan fått kapitalet. Men nu är det jag som är bärare av utlåningen. Det är jag som aktieägare som bär risken att förlora hela eller delar av beloppet som jag lånat ut om företaget går under. Eller att aktien sjunkit i värde om jag vill sälja. Eller dålig vinstutdelning.
För en massa år sedan köpte jag några, tre tror jag, aktier i VHVJ AB. Västervik Hultsfred Växjö Järnvägsaktiebolag. Ett bolag som bildades och tog över smalspåret mellan dessa orter när den reguljära trafiken las ner. VHVJ var ett bolag för att bevara spåret. Det var ett aktieköp jag gjorde för att stötta detta i princip ideella engagemang som företaget hade att driva spår och trafik vidare. Ett köp jag gjorde utan större hopp om avkastning. Och bolaget gick också i konkurs eller dylikt.
Men annars är det normala både för mig och andra aktieköpare att vi vill att utlåningen av pengar över tid åtminstone ska ge lite mer än vad bankränta ger.
Samtidigt när man investerar i aktier behöver inte enda målet vara avkastningen. Man kan välja bolag utifrån andra aspekter samtidigt. Som att välja de som är etiskt bra, som arbetar med produkter (inklusive tjänster) som känns bra och nyttiga, de som jobbar med sånt man själv är intresserad av, kanske spjutspetsbolag som tar fram något nytt eller uppstartsbolag som behöver kapital att komma igång, eller kanske välja svenska bolag för att stötta företag som ligger närmare mig. En annan inriktning kan vara investmentbolag, alltså bolag som äger många andra bolag och i praktiken blir som en fond. Det kan vara att man aktivt väljer vissa bolag, eller aktivt väljer bort vissa bolag. Det finns till exempel verktyg som hjälper att hitta bolag utifrån sustainability, något jag skrev lite om tidigare. Med flera inriktningar.
Och nu till dagens fundering om bolag som ligger nära geografiskt. Riktigt nära.
Jag tänker på aktiebolag som har sitt huvudkontor/säte i mitt närområde och som handlas offentligt på någon lista. Man skulle kunna definera annorlunda, till exempel att bolaget har väsentlg verksamhet i närområdet, men för nu håller jag mig till de som har huvudkontor i närområdet. Bolag som jag skulle kunna vara delägare i på ett enkelt vis.
För min egen del tänker jag på två närområden; Norsborg där jag bor och stadsdelen i Växjö där jag är uppväxt (som nu ofta går under namnet Hov).
När jag tänker på Norsborg, då kommer jag faktiskt inte på ett enda bolag som har sitt huvudkontor där och som finns på någon aktiehandelsplats. Även om jag utvidgar till Norra Botkyrka eller hela Botkyrka kommer jag inte på något. Jag har inte gjort någon sökning på nätet, men utifrån mitt minne. Kommer du på något, säg till mig! Det betyder förstås inte att det inte finns både lokala och stora företag i Norsborg och Botkyrka.
Däremot i min del av Växjö finns det flera. Inom sådär 15 minuters promenad från uppväxthemmet så finns i alla fall tre bolag: Balco, JLT Mobile Computers och SkyMap. Alla dessa bolag har sina huvudkontor några hundra meter ifrån varandra.
Tidigare fanns också Kronfönster i samma område som jag skrev om, men de gick i konkurs (konkursboet köptes upp och företaget lever vidare med ny ägare). Ett exempel på risken med att investera i aktier.
Balco gör balkonger och balkonglösningar, med ett fokus på balkonger på befintliga hus. De finns noterade på Nasdaq Stockholm, Small cap.
JLT Mobile Computers gör "ruggade IT-produkter", alltså för besvärliga miljöer. De finns noterade på Nasdaq First North Growth Market, alltså inte på de "stora listorna" utan på en lista för tillväxtbolag (förhoppningsvis).
SkyMap är det minsta och yngsta av de tre, startade 2015. De jobbar med mätteknik för främst byggindustrin, med hjälp av drönare. De har en mjukvara för ändamålet, men jobbar också med att utföra mätningar med mera (mer eller mindre med partners). De ligger på den lilla listan Pepins Market, för riktigt små bolag.
Skulle jag utvidga närområdet till Växjö stad eller Växjö kommun, så finns det fler bolag. Det kan vara något att fundera igenom en annan dag.
Bolag i det egna närområdet tycker jag kan vara en intressant vinkling i aktieägande. Det är inte någon bra strategi för den egna ekonomin att bara ha sådana bolag. Och så får man förstås fundera på hur de stämmer med andra strategier, såsom till exempel miljöaspekter och socialt ansvar. Men goda sidor med lokala bolag är att man kan promenera förbid dem och se hur det verkar. Det kan finnas hyggligt goda chanser att göra ett besök där (om än inte i dessa pandemitider) eller att man känner någon som jobbar där. Och det kan vara ett sätt att stötta det lokala samhället.
Nu har jag bara skrivit om aktier. Ett par ord om fonder. Jag har inte kollat igenom fondutbudet strukturerat. Men jag vet att Spiltan fonder har en regional fond Spiltan Aktiefond Småland, "som placerar minst 60 % i bolag med anknytning till Småland varav merparten kategoriseras som småbolag". Tidigare hade de också en liknande för Dalarna, som dock är nerlagd. Regionala fonder kan också vara ett intressant sätt att spara mer lokalt.
Har du några bolag i ditt (dina) närområde?
Henrik Hemrin
7 september 2020
Uppgifter

Kategori: Knowledge - Kunskap
Write comment (0 Comments)
Do you use a Password manager? I do! When I started to use a Password manager, I wrote down my story why I started to use a Password manager in How I handle Passwords. I still use 1Password as my handler. Several other software tools exists, but so far I am happy to stay with 1Password.
Now to my tip of the day. I think it was in one of the episodes of their podcast Random but Memorable, I got the tip or idea for the solution originally.
With the Password manager I have a good overview of all my registrations. They are many! They are more than I thought I had before I started to use a Password manager. I try to close accounts for e.g. websites when I do not need or want that service anymore. When I obsolete an account (or for that matter any other type of object I keep in my Password manager), I can simply move it into waste bin, or just keep it where it is with a note added.
But there is a better way for me to keep may Password manager clean and tidy and still keep access obsolete objects: Create another vault.
So, I have created a new additional vault I gave the name "Inactive" in my 1Password account. It is super duper easy to create an additional vault (and no additional cost).
In this "Inactive" vault I keep the obsolete objects which I still want to have a traceability of. Now I can find that obsolete object and know "Yes, I had a registration at that shop earlier", because it is in the Inactive vault. But it does not blur my list of active objects in my normal vault(s). And I can empty the waste bin as well.
So, tip of the day - for me it helps with an additional vault for Inactive objects!
Henrik Hemrin
31 July 2020
Uppgifter

Kategori: Knowledge - Kunskap
Write comment (0 Comments)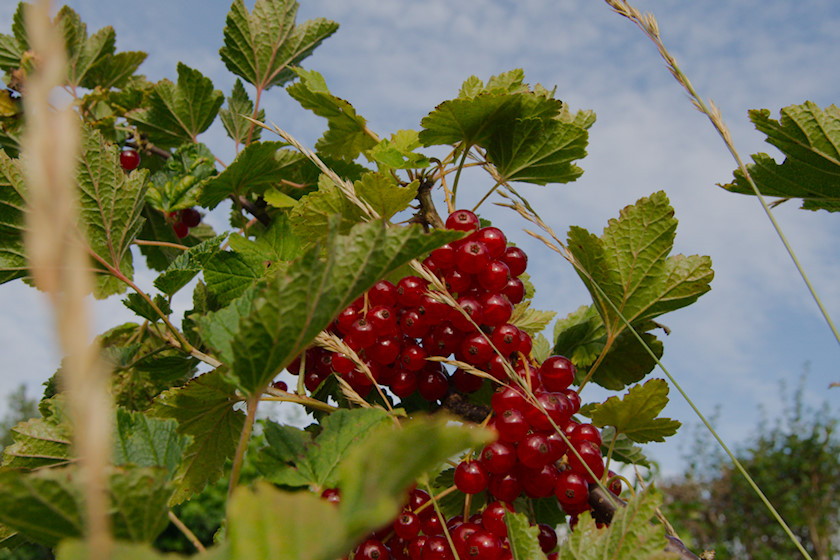 Röda vinbär i skördetid. Recurrants in harvest.
Camera: Nikon D90
Lens: Nikkor AF-S 18-55 f/3.5-5.6G ED
ISO Rating: 800
Shutter speed: 1/800 s
Aperture: f/11
Focal length: 26 mm
Date: 2020-07-25
Developed in Corel AfterShot Pro 3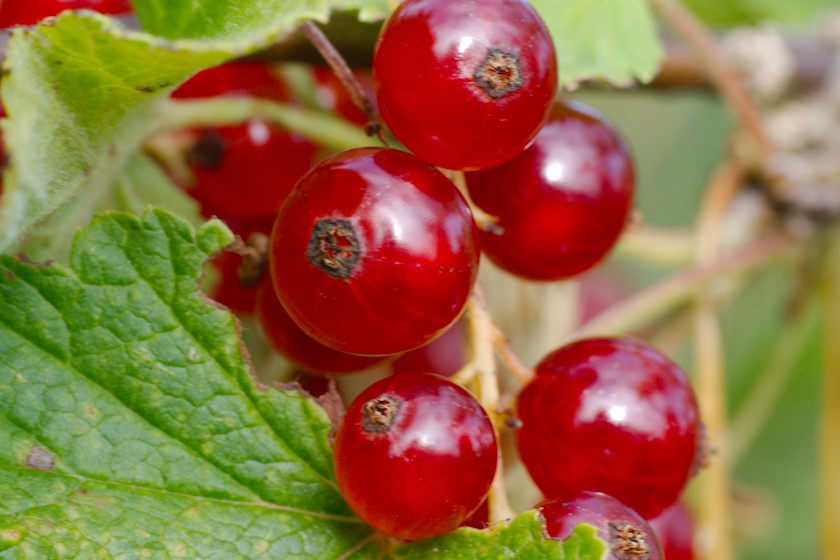 För den här andra bilden har jag använt Raynox DCR-250 försättslins för att komma nära objektet. Denna lins sätts framför det ordinarie, vanliga objektivet för att få makrofunktion.
For this second photo I have used Raynox DCR-250 as macro conversion lens in front of the ordinary lens. This lens gives the ordinary lens macro feature.
Camera: Nikon D90
Lens: Nikkor AF-S 55-200 f/4-5.6G ED
Lens: Raynox DCR-250 Super Macro conversion lens
ISO Rating: 800
Shutter speed: 1/100 s
Aperture: f/16
Focal length: 66 mm
Date: 2020-07-25
Developed in Corel AfterShot Pro 3
Henrik Hemrin
28 July 2020
Uppgifter

Kategori: Knowledge - Kunskap
Write comment (0 Comments)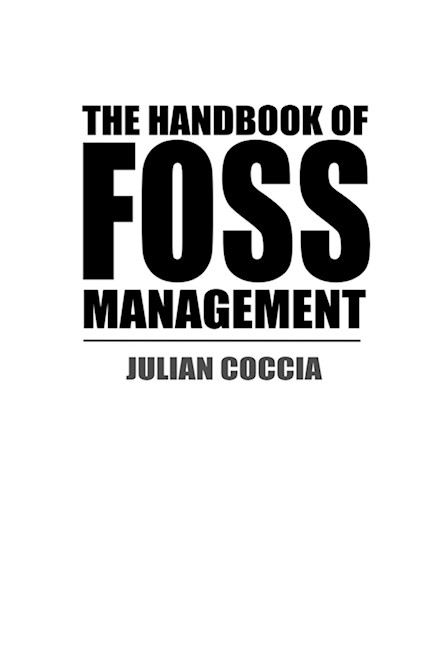 Books I have read: The Handbook of FOSS Management
StarOffice was an office suite developed by a German company that Sun Microsystems acquired many years ago. The acquisition was at a time when Microsoft Office suite (Word, Excel etc) had become dominant on the market. Sun decided to challenge Microsoft.
Sun made StarOffice free to use! I remember this as a big thing. It was possible to use this complete office suite in a legal way without paying a penny. At this point of time, I think it may not have been free for companies and other commercial usage, but as private person it became free. I do not remember when I started to use StarOffice, but it was a long time ago. At a later stage, if I remember correctly, StarOffice became a variant with a small fee due to it included some non-free content like graphical symbols, while at the same time OpenOffice emerged as a free variant. Above is written from top of my mind. A quick check with Wikipedia tells me I remember more or less correctly, but the story is somewhat complex.
Today OpenOffice is free for anybody to use, including commercial usage. It is a Free and Open Source Software, FOSS, under the Apache license.
I still use OpenOffice on a more or less daily basis. Today maybe LibreOffice is more known and used, and is more actively developed. LibreOffice is based on OpenOffice, and is also a FOSS.
Last few years I have finally started to explore Linux-based operating systems for desktop and laptop computers; GNU/Linux. Very many Linux-based OS are FOSS, for example Linux Mint which is a favorite for me. Thousands of FOSS programs are available and ready to use for Linux desktop.
Hardware electronic components, that is resistors and so on, have been part of almost all of my professional career. Those components have in my case been purchased from other companies to be included in our products. The components are listed with their approved manufacturers in a data base. I was involved as a reference team member in this data base and its user interface. Several years ago we discussed in this reference team that also software components needed to be handled and probably this was the first time I had to think about components that do not have any direct purchase cost for the component.
Also in later years I have been working with Software Component Engineers as colleagues and been involved in similarities and differences in handling of software and hardware components, and tools for the component management. FOSS is one important type of software components.
A fantastic world of FOSS software exist for both private persons and commercial usage. FOSS is not only complete programs like OpenOffice, but also shorter codes, e.g. snippets, for a specific function, which are handy to reuse for the software engineer.
Although FOSS is free, it is not that simple. Especially not for companies. Normally a licence is connected to this free usage of the FOSS; which typically means you are free to use, include, modify or further develop your own software based on the "original" FOSS software. Like LibreOffice is based on OpenOffice. But the licence typically means you must share your own work with the software. As a company you must understand this and only use FOSS in a way that works for you. Another consideration can be if any issue is found with the FOSS - there is no commercial contract with obligation that the FOSS developer should fix the issue (bugs, vulnerabilities etc).
Julian Coccia has been working with FOSS management over many years. He also has been my colleague working at the same department.
"The Handbook of FOSS Management", is written by Julian Coccia, with the aim to address how to handle FOSS from a company perspective.
The book starts with general information about FOSS. It is not a book that gives a complete and comprehensive information about FOSS. The focus is on FOSS management in companies. In this book Julian shares his best practice of FOSS management. Julian is positive to FOSS, but FOSS needs consideration, knowledge and management. FOSS management needs collaboration between functions such as software engineers, legal skills e.g. in a sourcing department, patent skills and business skills.
FOSS requires analyze, considerations, decisions as well as proper administration. The book gives an overview of all kind of aspects of FOSS management, written by a person who has been deeply into the subject in daily work.
Although this book is from 2013 it is a good start for anyone who should organize, work with or needs to become aware of FOSS possibilities and challenges in a business environment.
Henrik Hemrin
23 July 2020
Uppgifter

Kategori: Knowledge - Kunskap
Write comment (0 Comments)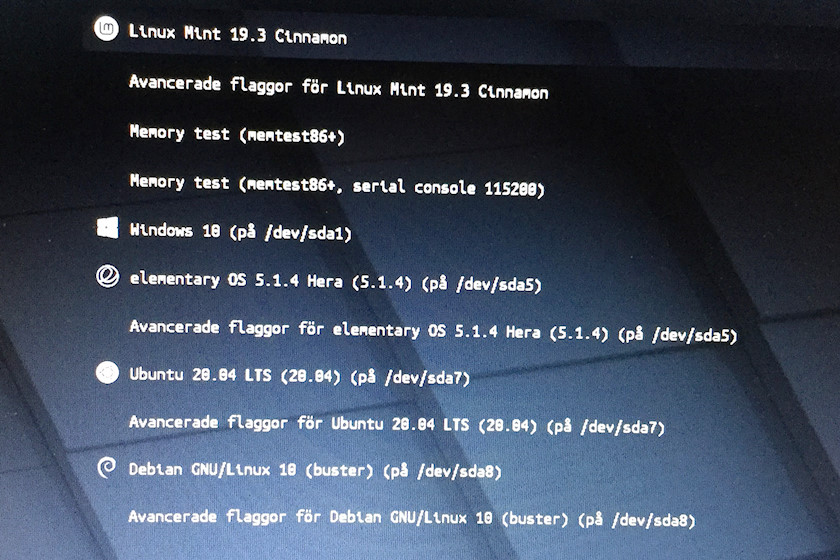 Exploring Linux OS: Linux Mint 19.3 Tricia, Cinnamon desktop. First part of my exploration.
Hardware: Lenovo ThinkPad T430s; CPU 2.60 GHz Dual core, RAM 8 GB and SSD 250 GB. 14 inch screen with 1366x768 resolution.
A full hand of operating systems on same machine for my different moods. Well, this machine is for time being intended for my self learning to learn, compare and explore operating systems.
So a couple of days ago I installed Linux Mint 19.3 with Cinnamon desktop on the T430s laptop. Yesterday the Mint team announced that Mint 20 is released - in July the team will tell how to upgrade from 19.3. The other four operating systems I already have on this machine are Linux elementary, Linux Ubuntu Studio, Linux Debian and Microsoft Windows 10 Pro, all installed on the same SSD hard drive! With Mint is my selection complete for time being.
So, some words about the installation process of Linux Mint 19.3 Cinnamon:
I started Linux Mint with the Live USB I had prepared with a download of the "ISO-file" from Linux Minte website. WiFi was detected when the live version started and I connected to my network (my password took some extra seconds to type due to my Swedish keyboard which was not yet known by Mint). Then I almost directly went for the installation icon of Mint.
The first installation screens handles the settings of Swedish, Swedish key board etc. On the key board setting screen, it is possible to type and check that myself and Mint have agreed upon which key board I actually have; good!
I said yes to install third part software including proprietary.
I know Linux Mint have options for encryption of the full drive or of the home directory, or no encryption at all. I wondered how the full encryption works when I have more operating systems on the same drive. The answer was given when I selected to install Linux Mint alongside the other operating systems; the encryption tick box was greyed and not possible to select. I have this is a laptop mainly for my own education for time being, else I had preferred to have the drive encrypted. In a later intsallation process setup screen, I had to split volume size between Linux Mint and the previous allocated area for Debian, i.e. the operating system I installed before Linux Mint. A more advanced interface was also possible. And I decided not to encrypt my home folder.
Then the installation process started. I did not check, but I estimate the installation itself took less than ten minutes. No issues. During the installation, Linux Mint displays a couple of screens telling about some of the softwares that are included. Smart to welcome the user with this info while waiting.
The so called GRUB menu was updated accordingly, see the photo above. The GRUB menu is created by the Linux installation and is the screen that welcomes me when I turn on the machine. If no action is taken within a few seconds, Linux Mint will start, else I can start one of the other operating systems. Directly when I power on the machine, I can interrupt as normal with e.g. the F12 key and the Boot menu will start.
After the installation, I restart Linux Mint. Before I forget to tell, I have also checked that all the other operating systems starts as expected.
Linux Mint has a welcome screen at start up. The welcome screen gives an introduction to Linux Mint with suggestions of first actions to take; like starting firewall, update drivers and consider backup settings. This will next to do for me, including update of software in the software manager. I will also look into some other suggested actions, which are mentioned in the Swedish manual and other resources.
The welcome screen also tells where I can get support. Linux Mint not at least has a big support forum.
This welcome screen and the set of included software are two things I like with Linux Mint. The selection of software is complete for the basic needs. And it includes tools like firewall, backup and TimeShift (to backup primarily the system to assist roll back if something unexpected occur). So, the basic installation gives basically everything needed to start off. The software center of course have much more softwares as well as alternatives to the included softwares.
Now I must confess this is not my first Linux Mint installation. In my article Cheap laptop reborn, I wrote when my almost new laptop got a new life in autumn 2018 when I swapped out Windows 10 for the Linux Mint Cinnamon. Later, in September 2019, I swapped out Linux Mint Cinnamon for Linux Mint Xfce; Mint 19.2 Xfce installed on my laptop. I changed to Xfce because it requires less resources, and the cheap laptop has very limited resorces.
Linux Mint is available with three different desktops: Cinnamon, MATE and Xfce. Cinnamon is developed by the Mint team. So although I like and have no problem with Xfce on the other laptop, I wanted to again try Cinnamon on this better laptop.
Linux Mint itself is based on Ubuntu, and Ubuntu is based on Debian. Linux Mint also have a separate "LMDE"; Linux Mint Debian Edition with Cinnamon desktop, based on Debian "directly".
This means that all four Linux operation systems I have selected for this laptop are relatively closely related to each other on the Linux tree.
No it is time to configure Linux Mint, go back and do more configuration on the other three as well, and test, play, install more software and increase my knowledge level of GNU/Linux. A long term strategy goal is to consider a GNU/Linux as my main operating system for all my computing needs.
Henrik Hemrin
28 June 2020
Uppgifter

Kategori: Knowledge - Kunskap
Write comment (0 Comments)
Exploring Linux OS: Debian 10.4.0 Buster, KDE desktop. First part of my exploration.
Hardware: Lenovo ThinkPad T430s; CPU 2.60 GHz Dual core, RAM 8 GB and SSD 250 GB. 14 inch screen with 1366x768 resolution.
After my installation of Ubuntu Studio a few days ago, I headed on to add Debian about a week ago. So, beside Microsoft Windows 10 Pro, I now have three Linux Operating Systems on same machine. Welcome to read also my first parts of my exploration of elementary and Ubuntu Studio respectively.
Debian is a Linux operting system that is not based on any other Linux distribution, it is an origin. But many other are based on Debian; like elementary is based on Ubuntu which is based on Debian, and Ubuntu Studio is a flavor of Ubuntu which is based on Debian. Also my "Linux home" Mint is based on Ubunto, which is based on Debian.
Debian is conservative (=stable) and orthodox (free open software and in official version without non-free software nor firmware). More about non-free firmware later on.
Debian has different methods to install, including a package where you install more than 59 000 packages from start. Debian is also available with several different desktops.
I decided to use my more or less normal routine via a Live-USB-stick and install from there. Debian web site(s) is so big and complex, so much information but also sometimes difficult to find what I am looking for. Well, I found the page with download of the "ISO-file", verified it with SHASUM 256 and flashed it onto a USB stick - same basic process as I normally use and used for elementary and Ubuntu Studio.
After starting the Live version of Debian I went over very soon to install it on the drive with e.g. those steps:
Calamares installer for Debian 10 (Buster): I selected Swedish, time zone etc. Then install alongside existing OS - decreasing elementary partition. I was not connected to internet during installation, actually no question about wireless during installation nor when starting the Live version.
Installation went well, and the GRUB menu was updated accordingly as expected with my four operating systems, with Debian on top.
But.
When I started, it was not possible to connect to WiFi. I suspected firmware for WireLess card, in my laptop an Intel Centrino Ultimate-N 6300 AGN.
I had installed the "official" version of Debian. There is also a "For convenience for some users, this unofficial alternative build includes non-free firmware for extra support for some awkward hardware." Which might had been better to install.
I read on Debian pages and other pages, tried and tested, without success. I will not list all my detours.
The terminal command sudo dmesg helped me to confirm my suspicion about firmware. The command dmesg display all messages from kernel buffer and helped me to the exact name of the missing firmware for wireless connection and returned among else:
firmware: failed to load iwlwifi-6000-4.ucode (-2)
See https://wiki.debian.org/Firmware for information about missing firmware
iwlwifi.6000-4 is required
By a search in packages.debian.org I found the name of the package where this firmware is included. I connected my laptop to wired ethernet (yes, my laptop has a wired connection!). In the Software central and update manager, after changing settings to also includ non-free software, I found the package and installed it. Restart, and voilá, my wireless connection works!
So, my problem was only that my laptop needs a non-free firmware. I have heard about that Debian is very focused on free software, and in hindsight I might have avoided this if I had started with the unofficial package.
For my installation I selected KDE desktop. One reason is that I have not tried KDE earlier as I recall, and secondly that Ubuntu Studio plans to switch to KDE in next release and I was curious to look at it now.
The installation via Live-USB includes many softwares needed for daily use of the laptop. Far from all 59 000 packages, but what appears as a good standard start.
I will enjoy have a look at Debian more closly, this distribution that should be very stable and work well. But I plan to add Linux Mint on this machine first. With those four Linux operating systems on the machine, I think I have what I need for exploration for a period of time.
Henrik Hemrin
5 June 2020
Uppgifter

Kategori: Knowledge - Kunskap
Write comment (0 Comments)
Exploring Linux OS: Ubuntu Studio 20.04 LTS Focal Fossa, Xfce desktop. First part of my exploration.
Hardware: Lenovo ThinkPad T430s; CPU 2.60 GHz Dual core, RAM 8 GB and SSD 250 GB. 14 inch screen with 1366x768 resolution.
After installing elementary, which I wrote about in this article, in beginning of May I added Ubuntu Studio two weeks later (that is about a week ago) on same laptop. So now I have Windows 10 Pro, elementary and Ubuntu Studio on same machine!
"Ubuntu Studio is a free and open source operating system, and an official flavor of Ubuntu" as stated on their web site.
My Linux background is Linux Mint as my home, starting a few years ago. On another laptop I have Linux Mint with Xfce desktop. Linux Mint is based on Ubuntu.
I created a Live USB stick, after download of the "ISO file" and verified it with SHASUM 256 - e.g. normal routines for trying or installing an operating system.
I started Live-USB. Then I had a language select screen before it loaded. It took some time to load. Then connected to my WiFi. Ubuntu Studio understood my keyboard directly with only above one setting.
I recognize the Xfce desktop from Linux Mint Xfce.
Then I went over to the icon for installing on the machine. In general, this may not be 100% full list of actions:
I selected Swedish keyboard layout. I selected Yes to third part proprietary software. And Yes to fetch updates. Yes to install Ubuntu Studio along with existing OS. Then I had to allocate the partition size for Ubunto Studio by dragging in a graphical view. Installation went on smoothly and I did not check time, but not very long, maybe 10-20 mins. The GRUB menu was updated as expected to now include Windows, elementary with Ubuntu Studio on top - means that Ubuntu Studio is started if no action is taken.
I recognize installation process etcetera from Linux Mint, not at least as I currently use Xfce there too. In next major release Ubuntu Studio plans to move from Xfce to KDE desktop.
I wrote that elementary had a very minimal installation of software. Ubuntu Studio is very different. It has a lot of software in the package. Not at least a lot of specific software for its creative areas. Ubuntu Studio has a target audience interested in Audio production, Graphic Design including Photography and Video Production. But it also has a selection of programs for all standard needs for a laptop or desktop.
My interest in Ubunto Studio is not at least related to photography. So far I am not sure if Ubunto Studio has done anything in the OS itself, or rather only added a selection of good photo software which otherwise could be downloaded. The fact that they will change to KDE desktop in the future may well result in that DigiKam will be included, but that is only a speculation. DigiKam is a software I consider to move to as my photo organizer.
When elementary has a nice background photo image, Ubunu Studio has a much more strict graphical background.
Installation went well. For creative people, Ubunto Studio looks as an interesting Linux OS! I intend to try it more.
Henrik Hemrin
5 June 2020
Uppgifter

Kategori: Knowledge - Kunskap
Write comment (0 Comments)
Jag har gett mig ut igen för att fotografera äppelträd med makrolins. För ett par veckor sedan fotograferade jag några äppelträd i knoppning. Nu har träden tagit ett steg till mot höstens äpplen; knopparna slår ut i blomning.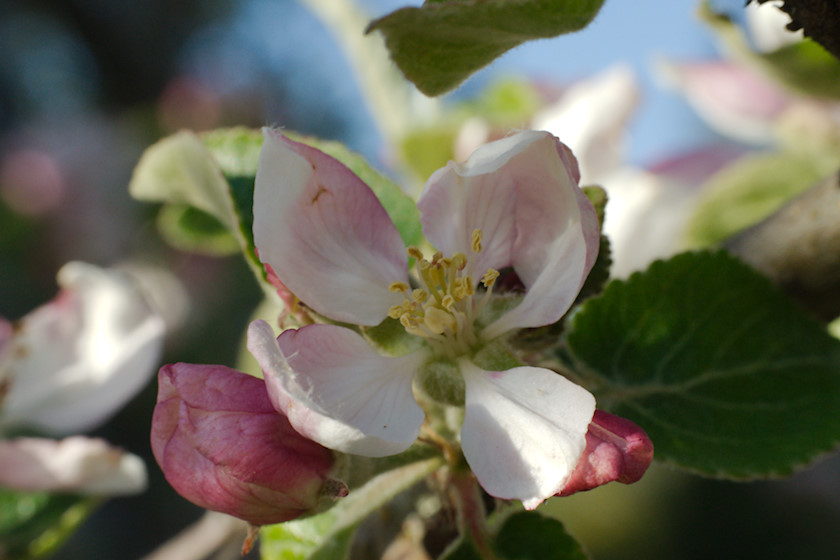 Detaljer detta foto:
Slutare: 1/200 s
Bländare: f/18
ISO: 800
Brännvidd: 55 mm + försättslins Raynox DCR-250
Manuell fokusering
Slutarprioritet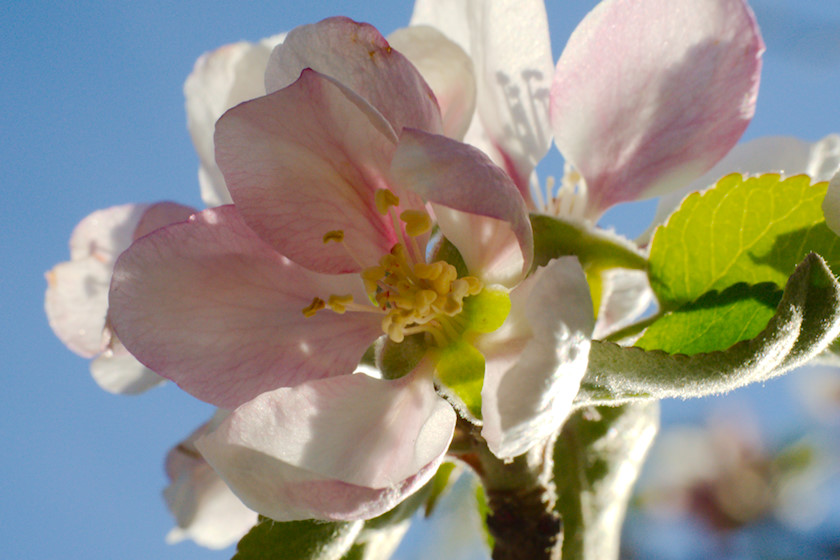 Detaljer detta foto:
Slutare: 1/320 s
Bländare: f/22
ISO: 800
Brännvidd: 55 mm + försättslins Raynox DCR-250
Manuell fokusering
Slutarprioritet
Utrustning:
Kamera: Nikon D90
Objektiv: Nikkor AF-S DX Zoom-NIKKOR ED 55-200mm F4-5.6G
Försättslins: Raynox DCR-250
Fotograferade 21 maj 2020.
Något efterbehandlade vid RAW-konvertering i mjukvaran Corel Aftershot Pro 3: Ändrat lite på exponering, highlights, saturation, vibrance, sharpening och linskorrigering (ursäkta vissa engelska ord).
Exporterad därefter i samma mjukvara till JPEG "90%" kvalitet samt minskad till storlek 840x560 innan uppladdning till denna sida. Det ger en filstorlek på drygt 100 KB JPEG.
Henrik Hemrin
24 maj 2020
Uppgifter

Kategori: Knowledge - Kunskap
Write comment (0 Comments)