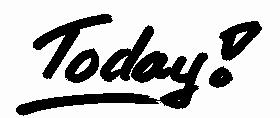 I'm still thinking about why we buy so many things we really don't need? Not at least at this time of the year. Else, I'm looking forward to have some extra days for leisure when Christmas comes. At the church today, we celebrated Lucia.

TODAY 10th of December 2000.
---
A reflection, when walking in shopping areas lately, we must really buy a lot! And a lot more than we need. Why?

TODAY 3rd of December 2000.
---

It's still dark! And wet.
TODAY 21th of November 2000.
---

It's so terrible dark!

TODAY 13th of November 2000.
---

Monday, and not at work, because I'm ill. I hope I will recover within a few days! I was ill all the weekend, more or less. A bad choice as I was away spending many hours by bus, not so nice to travel with fever etc. But I think I've travelled so many times this year with fever. Most hours on the bus I had someone I didn't know beside me. This time, I had no need for talking. The strange is the other persons hadn't either. Don't we want to talk and learn from other persons? Or are we t0o shy? Maybe we don't know how to start the conversation? Yesterday, it was New York Marathon. One year, I want to be there! Maybe maybe next year.

TODAY 6th of November 2000.
---

Again, It's Saturday. Saturday mornings without a must to go up is great! After a quite late breakfast with the morning paper, a nap, it was time for coffee. I took the coffee together with some magazines and not at least watching Åsa-Nisse on TV, the swedish character from the early TV-days. Wow!

TODAY 28th of October 2000.
---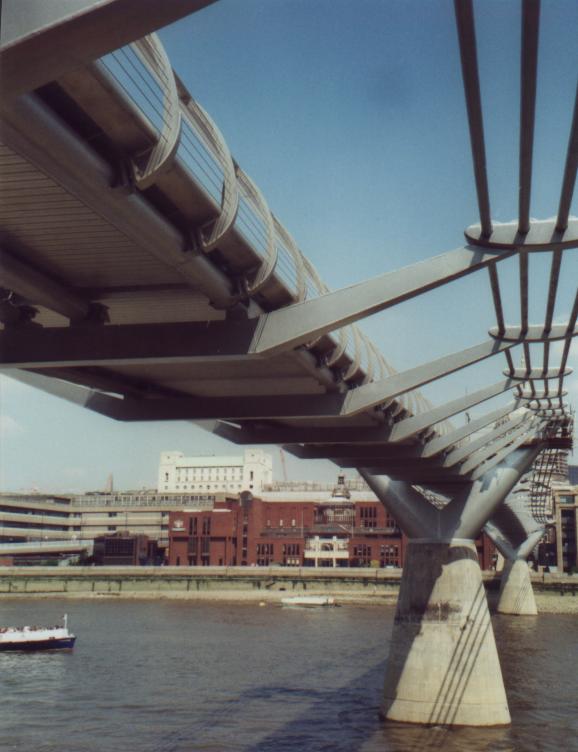 This is a very new bridge, the Millenium bridge in London. When I was in London this summer, it was closed for public walking... it wasn't safe... The constructing company wasn't sure why. Has it been re-opened?
TODAY 16th of October 2000.
---
Oh, how popular isn't shopping. I went on a quick shopping tour last Saturday. I was not alone, not at all. Too many shopping for me. It was crowded also in expensive shops. It seems as some more or less only by carefully selected, expensiv brands. Besides the clothes looks nice and feels good, I can think of two reasons to buy expensive- the quality and the salary to the labour. The last thing, labour, do anyone know if they are more paid for expensive clothes? I'm afraid they aren't, at least not more than marginally. I think I will continue to buy not too expensive clothes!
TODAY 5th of October 2000.
---

It's warm as summer! The summer olympics come close to the end. Pity so much is during the night and that I have too much job to do at day time. But tomorrow, Saturday, will be fun to watch. Else, sad I can't run my 7th Lidingöloppet on Sunday, because I'm still not receovered from whatever it is/was, and absolutely not trained for it.

TODAY 29th of September 2000.
---
I have slept most of the day, a normal Wednesday...at home sick again! I really want to get rid of it, virus or whatever, this is the sixth time this summer.

TODAY 30th of August 2000.
---

I walked very quickly into some shops looking for new underwear. Underwear that should look good, feel good, hopefully modern and at a low price. So I went to H&M, couldn't quickly see any fulfilling all criterias. Instead I looked on two odd but maybe modern, I don't remember what the looked like besides the details: The first had a fly with a zipper where everything is well locked in. The other underpants had a small pocket, big enough for a condom or two. Or what else can be the idea for an underpant pocket?

TODAY 25th of August 2000.
---

Vacation is over. I read the daily newspaper again. Job has started again. Back to the ordinary great life! But, I admit I could stand to be out from work for a longer time. What would I do if money wasn't any problem?
TODAY 23rd of August 2000.
---

Impressions and more from London...
TODAY 23rd of July 2000.
---

Rain. Again. Fever. Again. Not the best of weekends. Good I can sleep and try to treat myself during the weekend. I really hope I won't be really sick this time, that I can work and do other things in stead of being home in my bed. Have read the 2nd Harry Potter now, that one was fun too.
TODAY 16th of July 2000.
---

So, the weekend is soon over. Two days goes so quickly! I'm reading the second Harry Potter, it's fun. And today, after being to church, I could run 5 km, the first running for two months! It's great to be ok again to run. This week, I also biked to the city, it's summer. But still waiting for my first visit to the beach for the season.
TODAY 9th of July 2000.
---

Home again with fever. Pity me. Infection or virus, the concluision varies during the five visits to the doctor. My muscular legs are shrinking considerably. Want to have a healthy summer!
TODAY 26th of June 2000.
---

The swedish covenant church (SMF) has just ended the annual conference. This year, the final service was at Sergels torg in the center of Stockholm. Very different from other years. In one way interesting to have it at a so central place where a lot of people are circulating. But I miss to go out to the park at Lidingö.
Waiting for the warm summer days... and still not completely recovered from bronchitis (sp?).
TODAY 18th of June 2000.
---

Fiji. Strange things going on with the kidnapping of the parliament. I don't understand.
TODAY 27th of May 2000.
---

No.
Things don't always go as I want. I won't go to Dylan tonight. Fever and a really aching throat hit me late on Tuesday. Feeling so sick it's difficult to understand how I can be ok again. Soon time for a big effort- cook dinner.
TODAY 18th of May 2000.
---

Two special things will happen within a month: Bob Dylan will come to Sweden and Stockholm Marathon. I plan to attend both! It will be nice to listen to that fella again! Hope he has something to tell. And Marathon... I hope I will manage to start and fulfil, I really am looking forward to it.
TODAY 7th of May 2000.
---

Another weekend has soon gone, after a long week at work. This weekend has been a lot of paper work at home, sleeping and a few hours outdoor. Even coffee at the balcony, the spring is coming!
TODAY 16th of April 2000.
---

On Friday, I was at a concert with Mikael Wiehe, the still going strong "proggare" (how to translate that?). He was very political this time, some funny and interesting talk between the songs. One song was about it's so little you can do, to get at better world. But even as it is very tiny you can do, DO IT! It's so important to do what I can for a better living for everyone.
TODAY 2nd of April 2000.
---

It's spring! When I walked to the shopping mall nearby on Saturday, the alcoholics have returned to the benches outside the mall. Pity, a more certain sign of warmer days than trees or flowers.
When I waited for the underground in Fittja on my way home today, a mother with two kids came, waiting close to me. The mom said to the 4 years old boy, "we must cut your hair, it's too long. Boys shouldn't have so long hair, they can be called girls."
The boy looked at me, directed his finger: "look at him. He has long hair."
Hehe, I was kind to the mother, didn't say anything, maybe I should have said that the boy was right? The mother continued: "It's not nice to point on others. Now you make me ashamed. He's old enough to ..."
TODAY 27th of March 2000.
---

I came home yesterday from Baltimore, USA. My first visit to Baltimore. It is strange that I can walk in one block and it looks very decent, clean and nice buildings. Next block I can find a house with all windows blocked a spooky house and around that other more or less tired buildings, more dirt and street walkers, in the very central parts of the town. Walking in some of those latter streets when it's dark, you get the feeling it might not be so good for my own security. Strange as we don't have anything like this in Sweden. Now I've seen Edgar Allan Poe's grave and the building where he lived, Federal hill, Lexington Market, Inner harbour and not at least Baltimore convention center. The Baltimore dialect is really bad english, sometimes very hard to understand.
TODAY 12th of March 2000.
---

Oh boy!
Really long time since I had any Today-thought! Not that I haven't been thinking, sure I've been thinking a lot! But many hours at work, many of them in front of the workstation... so I try to be quite shortly at the PC when coming home. Saw table tennis on TV today, what a great win for the Swedes! Hurray!
TODAY 26th of February 2000.
---

The morning paper today had a quite big article and photo from when a swedish concregation had the induction of a new pastor, Ninni. The reason for having it in the paper is that she's homosexual and living with another women. I know her from Bible school many years ago. It's a debate in the church if it's right or wrong.
A long afternoon running today, great Saturday activity! Ran for about 19 km, I haven't done so long in winter time before, exept Nov this year. I liked it, wasn't too hard. Quite warm 5 C and icy only at a few places.
TODAY 12th of February 2000.
---

Ooops! Already end of Jan, so long time since I played with my homepage! Too much else... have for example discussed hair on the body, on the Robin Hudson forum. Because there was a radio programme a few weeks ago about the trend that hair gave the feeling the person was not clean, and the old manly thing with hair on the chest was not any more a symbol of a strong man, for some women.
TODAY 29th of January 2000.
---

This page collects old Today!-pages.
© Everything on this site is Copyright Henrik Hemrin.
Welcome to link any page or ask for permission to copy!