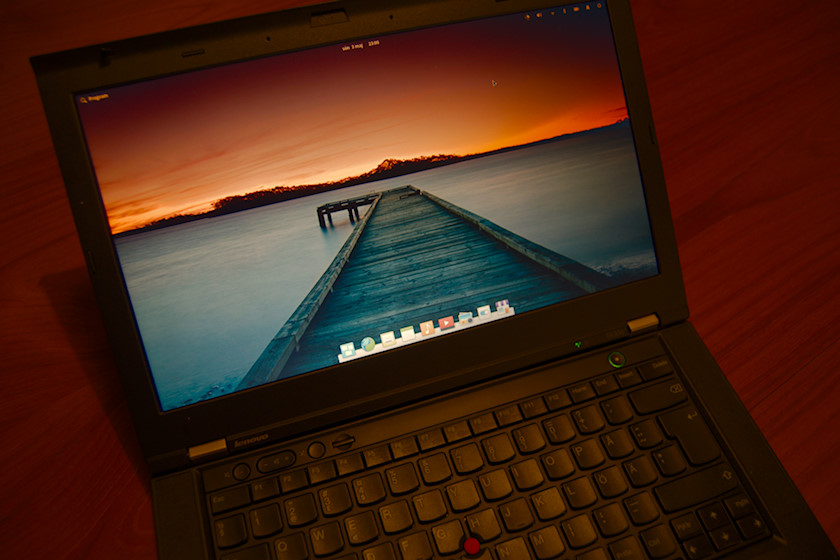 Exploring Linux OS: Elementary 5.1.4 Hera. First part of my exploration.
Hardware: Lenovo ThinkPad T430s; CPU 2.60 GHz Dual core, RAM 8 GB and SSD 250 GB. 14 inch screen with 1366x768 resolution.
I am welcomed by a beautiful desktop in elementary!
For me as a daily user of macOS (on a Mac mini) the is very familiar: The Top panel and the Dock at the bottom, a nice photo as background, resembles a lot of macOS.
A difference to macOS is that the Top bar in macOS is integrated with applications, so the drop down menues in applications are shown in the top bar, and with the Apple button in top left corner always available. Elementary has the application menues more traditionally inside each application.
My daily machine is macOS. I have started my Linux journey, and my Linux home is Linux Mint. Over the years, I have been using Microsoft Windows (and DOS) a lot, and for several years Unix (Sun) as well. But I am firstly an ordinary user and not an computer expert.
About a week ago I downloaded the elementary OS from elementary website. I downloaded the ISO file, verified it by the checksum and burned it to a USB stick. This is in same manner as is normal for many Linux OS. Detailed instruction is available on their site. The download is relatively small, a 2 GB USB stick is enough.
I have tested elementary a little maybe a year ago as Live-USB when I checked how resource hungry elementary is in comparison with some other Linux OS. But this is the first time I install it. The installation on my Lenovo ThinkPad T430s went smoothly. I followed the instructions and made my choices. I said yes to properitary e.g. drivers. I selected Swedish. The machine also has Microsoft Windows 10 Pro installed, and elementary nicely created a GRUB menu that opens when the laptop is started (with elementary starting automatically after some seconds if nothing else is selected). One elementary feature I could activate during installation was housekeeping, which e.g. means the system helps me to regularly delete temporatry files and waste.
The nice and clean desktop strikes me.
When I open "Program" (top left) I understand the ISO file was so small: It is extremely few applications included in the installation! When I compare to my Linux Mint, which has more or less a complete set of software to be ready to use the machine, including system tools, elementary almost has nothing. There are e-mail, calendar, media applications, a browser, a terminal and a few more.
For any reason, elementary has choosen Epiphany as browser. It generally works, of course, but when I try to start any media at SVT Play (Swedish national broadcast), it does not start. But audio from Sveriges radio (Swedish national radio) works. I write this exploration before I download any software from the AppCenter, but FireFox will be one of my first downloads.
Elementary describes themselves as "The fast, open, and privacy-respecting replacement for Windows and macOS". When I compare to the Linux Mint, which is considered as a very good Linux OS for a "normal user" coming from in particular Windows, so is elementary even more into simplicty with focus on a user of the OS that just want to use the applications. That is maybe a similarity to macOS, you know less about what is inside the box, the user is happy with using the interface at the outside of the box. I'm not the first thinking of elementary as a macOS look-a-like. Linux Mint is more of a Windows 7 look-a-like.
An example of this is the desktop: Linux Mint, in the bottom bar, has beside the link to the FireFox browser also a link to the Terminal. Elementary does not have a link to the Terminal in the Dock! Also the very few System tools in Program menu is can be a sign that elementary has a focus on simplicity for the user.
I can sympathize with the approach to include very few applications, both system tools as well as applications. But it means I really need to spend some time. Beside FireFox, one of the most needed for me is LibreOffice or any other word processor. And a notepad. So far, I prefer that Linux Mint has a more complete and well balanced kit of softwares coming with the installation.
Not at least in Linux are a lot of both GNU/Linux OS as well as application softwares open and free. It is a fantastic world, with those many free operating systems and softwares. But it is also nice when e.g. developers can make some earning on software, that not all efforts are done unpaid. Linux Mint appears to be relatively successful with sponsors and donations; every month there is a long list of donators from about one dollar and upwards.
Elementary has taken a somewhat different approach in free and open software: Before download of elementary, they suggest to pay 20 USD for the software. It is possible to change to more or less, and even to zero. So it is fully possible to use elementary without payment. Or why not try it first, and if you will use it, pay some for it.
The same goes for the AppCenter. Currently elementary has 173 curated apps. They also have a suggested price, from zero to maybe 20 USD. Beside those curated apps, there are a lot of other apps. In addition, from this release is also Flatpak available. I have started to read about the curated apps, and next thing is start to download and try some of them. This pay as you want model means also I can test first and pay for those I like. I can also note, that if going for all suggested fees, it can indeed sum up to a relatively high cost.
Both the applications which comes with elementary and those curated, seems to have an elegance; they generally looks good. I am curious to explore some of those curated!
The AppCenter also handles the updates of the applications and OS. I get notifications about updates by the notification icon at the top bar. Updates have so far worked smoothless.
Impression so far of elementary is positive. Not that I would say it is better than Mint, but a good runner up.
Thank you for reading my first part of exploring elementary.
Now I suggest you can also read a professional review by Bryan Lunduke, including an interview by him with the founders, in this article from Linux Journal January 2019 issue. Linux Journal has been shut down, but web site is currently still available.
Henrik Hemrin
12 May 2020