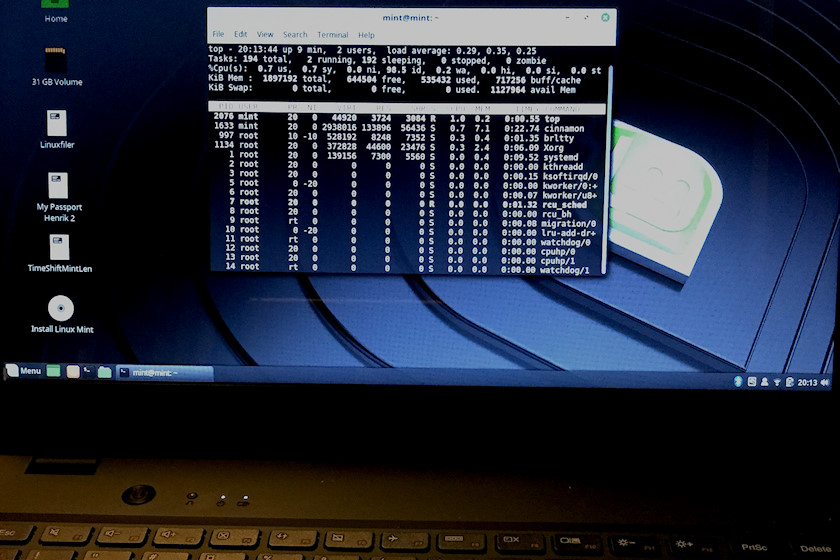 Another chapter in my Linux journey
I have a cheap laptop which could not handle Windows 10 updates any more, "Short life time for my cheap laptop". I swapped Windows 10 for Linux Mint 19 Cinnamon (now 19.1), and got my "Cheap laptop reborn".
I have been curious in Linux for many years (and specifically of Linux as operating system for various personal computing devices, mainly PC desktop and laptop). I was using Unix on a Sun machine at work about the time when Linux was invented.
Linux is actually the central "kernel", the complete operating system is more correct to call "GNU/Linux", although in daily talk it is often just "Linux". Linux is an alternative to Windows, macOS and ChromeOS.
I was researching about different Linux distributions (distros) before I finally selected Linux Mint with the Cinnamon desktop. I do indeed like both Mint and its Cinnamon desktop.
One common application to use is a web browser. Therefore I did some research of how hungry some different browsers are, see "Memory resources for web browsers in Linux Mint".
My Linux Minte Cinnamon works, but the needed resources are quite high for this cheap laptop. The amount/which applications I can use is limited. Main characteristics of this laptop: CPU: 1.60 GHz dual core, eMCC (SSD) Hard drive: 32 GB and RAM: 2 GB.
Now I have come to next step to investigate how to be able to enjoy this Linux laptop even more; I will look into RAM memory resources for the operating system.
So far, in my exploring of Linux Mint for half a year, I am happy with Linux Mint Cinnamon. It is nice looking, stable, good functions, a lot of software in repository, updates works well, yeah, it is a good distro.
My primary intention with my testing is to compare the Linux Mint variants, and benchmark them to a few other distros. To bear in mind, the "desktop environment" of a distro, is not only the "layout" of the screen, it also mean different "basic" tools, like different file managers as an example.
There are hundreds more distros out there, and in long term I may very well use one of those other. I have no intention to benchmark all good distros in this evaluation.
The magazine Linux Journal, January 2019, in the article The State of Desktop Linux 2019, is a chart for RAM usage of six different desktop environments, measured on Debian. It gives a good overview. However, I want to do a test myself and do it slightly different, on my own laptop. So, here it comes.
Test objects
Linux Mint is actually available in four flavors. Three of the flavors are based on Ubuntu, but with different desktops:
Cinnamon 19.1
MATE 19.1
Xfce 19.1
The fourth Mint flavor is instead based on Debian (and Ubuntu is based on Debian). It only comes with Cinnamon desktop:
I benchmark with four other distros. All except the first one are generally seen as lightweight:
Test condition
All distros were started via USB, except Slax, which I started from a DVD. I was connected to WiFi, and I had also a portable USB hard drive connected. But else I had no application ongoing started by myself. So all hopefully are in a relatively comparable idle status. With the exception of the "Linux Mint 19.1 Cinnamon Current installation", which is the one on the laptop hard drive, with the start up in my configuration, which includes a VPN service activated.
Result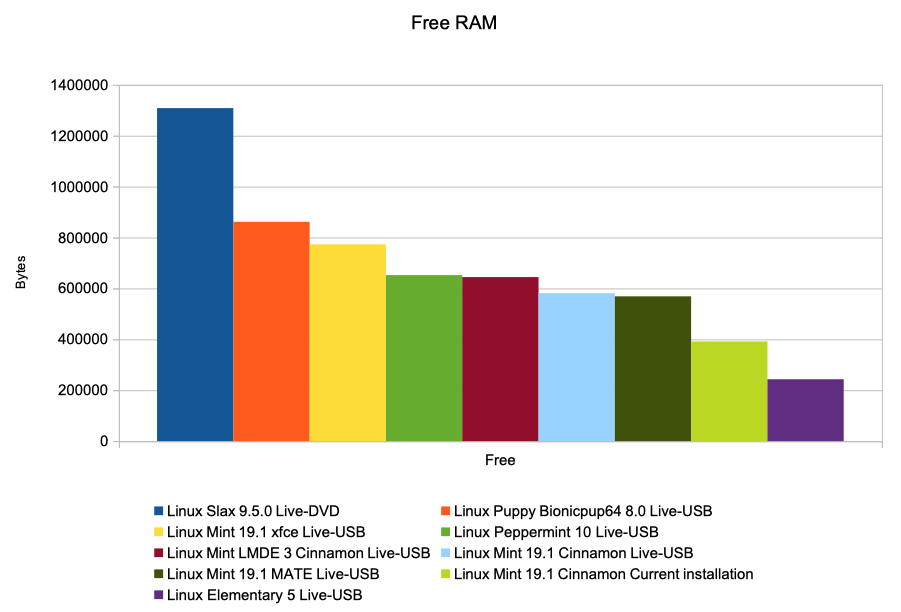 Test result table
Distro
Free
Used
Buffer/
Cashe
Slax
1 308 584
138 124
450 560
Puppy
861 500
124 312
902 988
Mint Xfce
773 172
343 760
769 392
Peppermint
652 116
300 288
933 692
Mint LMDE
644 504
535 432
717 256
Mint Cinnamon
581 328
497 328
807 668
Mint MATE
568 984
355 544
961 796
Mint Cin Installed
391 676
786 216
708 400
elementary
243 040
507 616
1 135 660
I have used the command "top" in a terminal window to get the result.
Discussion and some words about the distros
Slax is indeed the least memory hungry of them all, by far. It has extremely few applications in the installation. It has a Chromium web browser, and a few more things pre-installed. My feeling is that it is part of the idea, that the user always is online using cloud services.
Puppy comes next, and is more "traditional" when it comes to pre-installed software. It has Pale Moon web browser.
Peppermint is not that very lightweight in this selection. I notice, Peppermint has Gmail, Google Drive, Google Calendar and Microsoft Office Online pre-installed. But not e.g. LibreOffice. Peppermint also target a more always on-line and cloud services user.
As I had expected, of the four Mint versions, Xfce is least memory consuming. Mint is a distro-family with a relatively complete portfolio of useful software included in the initial installation. I was surprised, that the LMDE version, with Cinnamon, came out as second of the Mint distributions, although well behind Xfce.
The LMDE is a relatively new addition to the Mint family. It is a Mint project they have started to be prepared if Ubuntu one day will not be available any more. As I understand, LMDE is already fully usable. Ubuntu is a free open Linux distro, but it is owned by the commercial company Canonical. Actually right now, the June issue of the official Linux Mint blog writes about a concern with Ubuntu and their Snap library. It is a concern Snap may become mandatory to use, hence users of Ubuntu-based will then be in the hands of Ubuntu and Canonical. It may very well not happen, but it indeed makes the LMDE version even more interesting.
Finally, elementary required most RAM memory. It is what I expected. Elementary is a macOS look-alike distro. The state themself as "Fast, open and privacy-respecting replacement for Windows and macOS". Although elementary is free to download, they have a different approach as they at the same time also ask for "pay as you want" before downloading. I understand it is the same when downloading applications. The other distros are free to download without question, but they generally have a request for donations.
Concluding for this laptop
This laptop, CPU: 1.60 GHz dual core, eMCC (SSD) Hard drive: 32 GB, RAM: 2 GB, is a secondary machine for me. My primary machine is a desktop Mac mini, running on latest macOS. I use this laptop typically:
When I need a mobile machine
To explore Linux and Linux applications, for general curiosity and knowledge, but also for eventually switching to Linux as my primary operating system (on a more powerful machine)
Elementary is not relevant for this laptop, but still a distro I keep my eye on to eventually use in the future on a better machine. All the other can be relevant, considering this laptop alone. My personal feeling is that Puppy and Mint are those I would prefer. However, if I see this laptop as a Linux earning machine, I think I will stick to Mint, as it indeed is one of the distros I consider for an eventually coming primary machine. As Xfce is best of them when it comes to memory resources, I am tempted to switch to it. Future will tell!
Henrik Hemrin
10 July 2019